Ryka Devotion Plus 3 features an incredible iridescent flex gear that helps ease walking for you. If you're someone who's always on the go and perhaps have to stand for hours, this pair supports you through thick and thin.
Indeed, it is one of the best walking shoes you can find out there, with excellent arch support and stability. With Ryka's signature breathable mesh and 100% synthetic material and EVA midsole, this Ryka Devotion Plus 3, as always, sets the bench high in comfort and support. 
What truly makes it stand out is extra padding on the heels, which gives the ever-needed shock absorption to keep you safe from any injuries whatsoever.
About Ryka: The Brand
BEST FOR: High-performance fitness walking
PERFORMANCE TECH: RE-ZORB responsive cushioning for shock absorption + impact protection
MADE FOR WOMEN FIT: Designed for a woman's unique foot shape, muscle movement, and build with a narrower heel, roomier toe, and softer foot cushioning
MATERIALS: Breathable engineered mesh, iridescent overlays, + soft Lycra-lined tongue and collar with built-in cushion
OUTSOLE: Eight-piece rubber sole for increased traction + durability
Founded in 1987 by Sheri Poe, Ryka aims to amp up female fitness by creating footwear explicitly for women. Ryka's shoes are centered around having narrower heels, spacious forefoot, and high cushioning that go well for just about any activity.
You can expect Ryka women-specific shoes for Zumba, running, walking shoes to help you make the most out of each workout. Whether you have narrow feet or wide, Ryka is fully armed with personalized shoes that would work best for you.
What distinguishes Ryka from the rest of the athletic shoe brands is its mission, sponsors programs and events to empower women, and craft ways to support female fitness in all domains.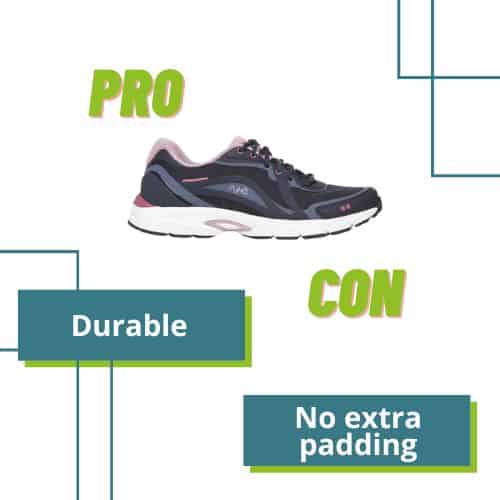 Special Features (Pros) of Ryka Devotion Plus 3 Shoe
A shoe that is as well known and stylish as Ryka Devotion Plus 3 comes with its own set of unique features that makes it stand out from the sea of other footwear. If you opt for one, here are a few features outstanding you can expect from Ryka Devotion Plus 3:
Lace-up front to give extra support while walking
100% breathable mesh with iridescent flex gear overlays that allows enough ventilation in your feet to pass through and, thus, avoids sweaty feet to a great extent
Can allow up to 10,000+ steps daily
Recommended for people with medical issues like plantar fasciitis and knee problems
Features a responsive Re-Zorb cushioning that gives an overall cloud-like feel to the shoe
The footwear is lightweight with an EVA midsole to yield impact protection and shock absorption
It has raved for its perfect fit
Its grip allows wearing these shoes on wet asphalt and cement surface
The excellent cushioning and support offered by the incase makes it completely effortless to stand on your foot all-day
Since it carries a casual appearance and is lightweight to wear, this pair of shoes are the epitome of perfect casual walking shoes
Drawbacks (Cons) of EX5 Ryka Devotion Plus 3 Shoe
Where Ryka Devotion Plus 3 is praised for its exemplifying comfort and laid-back style, there are a few things their customers find concerning which can help you make an informed decision for yourself.
Although its lace-up system adds extra support and sturdiness to the overall shoe, it also requires you to fiddle around to get the right fit
This footwear focuses on cushioning the heel section. This means there is no extra padding in the toe area, which keeps your toe slightly uncomfortable throughout
Ryka Devotion Plus 3 Buyers Guide: Things to Consider Before Buying a Ryka Devotion Plus 3
1. Price
Before buying anything new, you have to keep in mind your budget. While there are other less expensive shoes available out there, choosing Ryka Devotion Plus may depend on a number of factors. First off, it is more stylish than others and secondly, it offers a number of benefits that other shoes may not offer.
2. Size
It can always be hard to find shoes that fit like a glove to your feet. When we talk about online shoe shopping, the problem gets worse here. If we specifically talk about Ryka Devotion Plus 3, then the shoe runs a little smaller for many people.
Therefore, if you have an average-foot size, make sure to buy a size slightly more significant to get the right fit.
Just all most of the shoes out there, these shoes also take up to lose up when you first purchase them. That is, you can expect to fit you snuggly at first but will eventually adjust to the shape of your feet over time.
3. The Shape of Your Feet
Before you go on to buy any shoes, make sure you're aware of the share of your feet. Some shoes are designed for narrower feet and some for comprehensive. Suppose you're prone to feeling claustrophobic or uncomfortable around the tow area.
In that case, you might want to go for shoes that offer a spacious toe box to avoid chronic pain or disorders like hammertoes and bunions.
4. Insole
To add extra comfort and support, cushioning can be a great way. But remember to always go for shoes that offer revocable cushions to give you the freedom to customize your shoe according to your preference thoroughly.
Benefits of Ryka Devotion Plus 3
If that wasn't already enough, here are a few exceptional benefits Ryka yields to its customers.
1. Arch Support
The Ryka Women's Devotion Plus 3 comes with a reliable feature to support your feet with medium to high arches to help you move around effortlessly. If you have been dealing with plantar fasciitis, this footwear makes sure to give you just the right angle to spread your weight enough across the shoe.
2. Material
This Ryka has shoe materials for everyone. Suppose you prefer a relatively soft yet sturdy material to withstand the heavy-duty wear and tear of daily work. In that case, this shoe comes with 100% synthetic material to give you endless pleasant comfort for your feet.
3. Insole
Devotion Plus 3 offers an easily replaceable insole. You can customize the shoe with orthotic insoles to get the ever-needed support for knee arthritis and plantar fasciitis. Thanks to their lightweight build and excellent arch, these shoes deserved a proper review by us.
4. Toe Box
The shoe is specifically made for women with wide feet since it features a light toe box. However, since the shoe fits narrow for some people, always opt for a size bigger to take advantage of its toe box.
5. Lightweight Design
You can start to feel how effortless it is to put it on as soon you slide your foot inside the shoe. The footwear is not bulky, and the lightweight synthetic upper gives an overall airy feel to the shoe.
What Others Are Saying About Ryka Devotion Plus 3
The benefits mentioned above were a few of the points that the manufacturer believed it could yield. However, no brand can ever remain hidden from the opinions and criticism of its customers.
After hours of consistent research and interviews, here are a few of the things that people have to say about Ryka Devotion Plus 3.
Durability
You can expect the synthetic material to give you an airy feel, and there are a few complaints of premature wear and tear of the shoes. Some customers noticed the upper to break apart only within a few weeks of wear.
Padding
Ryka Devotion Plus 3 is raved to provide excellent arch support and padding, making it easier to walk for lengthy journeys. However, according to a few customers, it lacks padding in the toe box, making it comfortable to use if you're not used to it already.
Alternatives to Ryka Devotion Plus 3
Regardless of how praised Ryka Devotion Plus 3 is, you can blindly trust and impulsively buy something that you're not sure would suit you. Above, we gave a brutally honest review of the shoes.
If you think Ryka is not your best bet to go, here are three of its alternatives you can consider to help you make an educated decision.
1. Ryka Myriad Walking Shoe
Custom engineered mesh and knit upper in a cross training sneaker with a round toe.
Lace-up front with back pull tab.
Anatomical Precise-Return insole with extra arch & heel support.
Cushioned EVA midsole with maximum comfort.
Marbled rubber sole for extra traction.
Ryka Myriad Walking Shoe is designed for women with narrow feet to a roomy toe box for better stability. It features a super-responsive cushioning that is ideal to stay kind with your knee and allow shock absorption.
The mesh and knit upper also allow you to move around quickly.
The strategic treading designs are impeccable to give you maximum grip without compromising flexibility regardless of how harsh your wear and tear are. What differs Ryka Myriad Walking Shoe from Ryka Devotion Plus 3 is:
Myriad offers more flexibility and bendability than Devotion Plus 3
Devotion Plus three is made for broad feet, whereas Myriad is for narrower feet
2. New Balance 860v11
Truly Unique: The New Balance Fresh Foam Roav v1 running shoes are the ultimate in casual athletic style. Pairing a bold, attractive look with plush comfort, these cushioned running shoes are in a league of their own.
Fresh Foam Midsole: Feel like you're running or walking in the clouds. The first of three proprietary technologies in this athletic shoe, Fresh Foam midsole cushioning is precision engineered to deliver an ultra-cushioned, lightweight ride.
NDurance Outsole: Step up your game without wearing out your favorite running shoes. Ndurance rubber outsole technology provides superior durability in high-wear areas to help get more out of the shoes.
Ultra Heel: These neutral running shoes boast a head-turning heel that performs as well as it looks. The Ultra Heel design hugs the back of the foot for a snug, supportive fit. This unique heel works alongside the bootie upper for all-day comfort.
This Balance 880v11 is also known to be an exceptional walking shoe. However, it uses an entirely different approach to provide comfort. The shoe has a sturdier feel with a relative crip foam midsole that differs from other extra padded shoes.
Other than that, it also features a dense media post under the arch to make sure your foot stays in the right position at all times. New Balance 860v11 differs from Ryka Devotion Plus 3 by:
Price; new Balance is relatively expensive than Ryka
Where Ryka uses extra cushioning to give support, New Balance keeps its firm and sturdy on the ground
3. Hoka One One Bondi
Women 9.4oz (266g)
Cushioning: PWRRUN
Offset: 8 mm (32.5mm / 24.5mm)
Category: Structured Cushioning
Synthetic
Hoka One One Bondi features an EVA foam midsole like Ryka Devotion Plus 3 to give a soft and bouncy feel to the shoe.
The footwear has a high heel, which offers an extra edge whenever your foot strikes the ground. It prevents you from injuries and sore foot problems, which can be a powerful reason for someone to choose this over Ryka.
When it comes to appearance, where Ryka Devotion Plus 3 offers an athletic style, Hoka has more of a Meta-Rocker design to add an overall funkiness element to any outfit. Hoka sets itself apart from Ryka due to the following differences:
Higher heel to absorb shock and prevent injuries
It features a thick insole to make your feet feel firmer than the highly cushioned heels which Ryka offers
Conclusion
All in all, just like most Ryka shoes, this excellent footwear also offers a wide array of perks like a lightweight body and ever-lasting support to help you live each day with utmost comfort.