What are the best Aerobics for Seniors to improve overall physical health?
Getting old is part of life. There isn't much one can do about it, and age takes a toll on your social life and physical health. However, it doesn't have to be so.
You can still stay fit, active, and still push it past your 40's.
These aerobics are aimed at improving your cardiovascular health, as well as psychological state. Let's take a look at some of the best aerobic for seniors to improve physical health.
Top 3 Aerobics For Seniors
Lightweight mesh with textured overlays in high-wear areas helps keep your foot cool without sacrifi
Flywire cables integrate with the laces to secure your midfoot
Tab locks down the laces with a hook-and-loop closure to keep them out of the way
Handstand clip at the heel minimizes drag during wall exercises
Ahar plus outsole - strategically positioned in critical areas of the outsole, this exceptionally du
Rearfoot and forefoot gel technology cushioning system - attenuates shock during impact and toe-off
Trusstic system technology - reduces the weight of the sole unit while retaining the structural inte
Lightweight and flexible - these sneakers feature meta-flex design that encourages natural foot move
Stable and suppportive - a snug fit around the midfoot provides stability and the wide toe section p
Durable and protective - these stylish trainers feature ropetec technology that extends onto the shoe
1. Brisk Walking
Brisk walking is known to offer a rough equivalent of a rigorous workout session without excessive lifting and exhaustion. It helps you develop your lower leg muscles and endurance, which helps you stay active and prevent falls in the long run.
Brisk walking is a less demanding aerobic workout than jogging for seniors, but it's also an advantageous workout that can improve your cardiac rate and work your muscles.
Brisk walking also has benefits over jogging, as it hurts the joints less. Therefore, it is a much safer option than a jog when you have weak knees or joints due to its low impact.
Although brisk walking does not sound like an activity to most people, you would be shocked to know that there are strategies to master this sport.
Unlike regular walking, brisk walking strengthens your gait and helps you quickly switch your legs. It also results in a healthy posture as your back should be straight, and your shoulders should be set back for optimum advantages.
2. Stationary Cycling
Stationary cycling is among the safest aerobics for seniors, and it can offer a wide array of positive benefits for physical health and psychological health.
You can easily find stationary bicycles at community centers or gyms. Some gyms also offer stationery bikes installed in outdoor environments for a fresher exercise experience.
Stationary cycling is a perfect aerobic workout because it does not affect the joint, so you are expected to have a relatively low risk of injuries.
It can boost your cardio fitness, help with weight loss, burn excess fat, and strengthen your legs and lower body muscles.
3. Swimming
As refreshing and revitalizing as it is, swimming is also among the best aerobics for seniors, and it is known to uplift their physical health. Swimming is a perfect aerobic training as it does not place a massive strain on your knees.
Moreover, it is low-impact aerobics since the knees do not suffer from high tension, and the water supports the body's weight.
For senior citizens who have arthritis or osteoporosis, swimming can be a wonderful and healthy sport. The low risk of injury also makes this a perfect activity for seniors.
It is gentle on the joints, improves cardio health, improves muscle strength and tone, and is also known to boost mental health. It is a rejuvenating activity for psychological and physiological health.
4. Tai Chi
The name shouldn't put you off. Tai Chi is quite a perfect and safe form of aerobics for seniors. It can easily enhance your physical health, improve your balance, and help with joint and muscle flexibility to reduce the risk of arthritis or osteoporosis.
This is a low-intensity activity, but it helps yield the best possible results for senior citizens.
Moreover, Tai Chi is conducted in groups, and this helps everyone stay productive, happy, and social while taking care of their physical health.
Tai Chi can reduce stress levels, improve oxygen flow through organs, boost mental capacity, enhance focus, improve your balance, and help recover from cardiovascular diseases or strokes.
5. Arm Weights
If you want to take care of your upper back muscles, shoulders, and arms at the same time while enhancing your overall physical health, lifting arm weights is just for you.
Lifting arm weights will help you gain a stronger upper body while strengthening your posture. You can either sit down or stand up for this activity, and you will only have to lift heavy weights as high as your shoulders.
This form of aerobics for seniors falls under the umbrella of strength training and toning exercises. Lifting arm weights is known to reduce the risk of cardiovascular diseases, strokes, and diabetes as it helps maintain a healthy blood pressure level in the body.
6. Regular Stretching
Regular stretching is among the low-impact aerobics for seniors, and it can help with enhanced flexibility, fewer joint-related issues, and improved blood pressure level, and boosted mood.
It keeps muscles in pristine condition and boosts your overall physical health. Moreover, it can also help with posture and back muscles.
Regular stretching aids with muscle tension and soreness, and you should stretch every morning to get rid of any soreness of muscles from long hours in the bed.
Since this is a low-impact form of aerobics, the risk of any injuries is relatively lower than other forms of exercise. Stretching is also known to help with increased circulation, muscle control, and enhanced balance and coordination.
7. Yoga
Yoga helps with improved balance, heightened flexibility, and strength training at the same time.
Yoga is a multi-purpose aerobics for seniors, and it brings a multitude of physical health benefits to the table.
You will be working on your muscles to support your weight during yoga exercises, and this will help with tone building and muscle training without any exhaustive workout regimens.
Moreover, yoga doesn't let the body exert too much force on joints and helps with even weight distribution; you will not have to worry about knee pain or joint pain while doing strength training.
8. Squats
If you are looking for one of the best balance aerobics for seniors, this is it.
Squats offer excellent balance training for seniors, and they can also help improve posture and back muscles while alleviating joint pain.
When you work out daily and place minimal pressure on your joints, they start getting used to it and start bearing more pain in the future. It can help with joint movement, flexibility, and balance.
However, you should know that most people do this wrong and end up hurting themselves in the process.
Learn well about the different squatting forms, and then jot down a squat-oriented workout session for yourself. You can ask your buddies to join you and take help from a professional to get started with squats.
9. Dance Cardio
For seniors looking for a fun time along with their daily exercise sessions, this is the one.
If you want something more out of aerobics for seniors, you can go for dance cardio and socialize while maintaining your balance, improving your lower leg muscles, and enhancing your coordination and balance.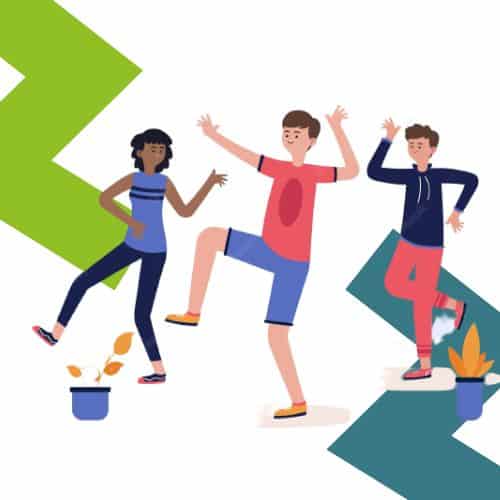 Dance cardio is among the best exercise routines for seniors as it is low-impact and comes with a low risk of injury and a high risk of fun.
You can improve your strength, mobility, balance, coordination, and focus with the help of dance cardio sessions.
Dancing sessions are also known to alleviate muscle pain, boost mood, and take care of joint stiffness without putting too much pressure on knees or weak joints. It is a perfect exercise to enhance your overall physical health.
10. Calisthenics
Are you looking for an exercise routine to enhance your balance and strength at the same time?
Do you want the best of both worlds?
Well, calisthenics is your best bet as these exercises will make use of your entire body weight to train your muscles and improve your balance at the same time.
But the question is, "Can calisthenics beneficial for seniors?
In fact, Calisthenics has been shown to be an effective way to improve strength in seniors. And this study confirms the effects of bodyweight-based exercise training on muscle functions of the elderly.
There are hundreds of different ways of adopting calisthenics into your daily workout routine, and it is up to you to decide the best way to do that. You can go for push-ups, sit-ups, lunges, etc.
These exercises are designed to train the muscles of the whole body and offering maximum balance and coordination at your disposal.
You should consult a professional to help you come up with a tailored plan for adopting calisthenics into your daily workout session.
Bottom Line
You have to stay fit and active regardless of your age. Whether you are an adult who has just stepped out of late teenage years or a senior citizen who has spent nearly six decades of life, you have to stick to a regular exercise routine to ensure a healthy body, mind, and soul.
You can research the top-recommended aerobics for older adults, and seniors. Then come up with a tailored exercise routine for yourself. These aerobics for seniors are designed to take care of your physical health as well as your physiological health.
We all know that a sound mind needs a sound body. So, these exercises will help you keep a sound body that will further help you fight against any mental disorders and ailments associated with senior citizens.
You can improve your cardiovascular health, endurance, balance, coordination, focus, and flexibility with these exercises and stay away from any lethargic behavior.
If you want to make the best of your life as a senior adult, you have to take care of yourself with we-designed and proven aerobics for seniors.
Also Read: