Ryka Women's Training Sneakers are the talk of the market. Find out everything about the Ryka brand and how it has embossed a mark in the footwear industry.
Ever felt left out when you noticed all the shoes you try to offer the same features as men, whereas other apparel and accessories have a completely different approach? Well, this is how shoe markets are designed. A brand that goes the extra mile to create a solution for this emerging problem is Ryka.
Let me break it down for you.
Female feet have slightly higher arches, more curved inside lines, and a shorter outside length of feet to distinguish their shape from men's shoes.
Ryka is one of the very few brands that specifically designs shoes for women with slightly different needs than men. These training sneakers offer orthopedic features, all while having unique aesthetics to help you wear around the streets.
A shoe that stands above the rest is Ryka's Women's Training Sneaker that offers everything you need to have effortless training sessions. Here's a complete guide on Ryka and the best Ryka's Women's training Sneaker options to help you make an informed decision.
So, let's dive right into it!
Ryka Women's Training Sneaker Options Review
Stretch lycra bootie with feminine breathable mesh
Anatomical Precise-Return footbed
Lightweight molded EVA features a full length RE-ZORB drop -in. External RE-ZORB LITE pod network between midsole and outsole
Built on the award-winning footwear technology, Ryka's Women's training Sneaker helps boost your performance while looking stylish in sneakers. The stretch lycra bootie comes with a feminine breathable mesh, rubber sole, and lightweight molded EVA features that can bridge the gap between midsole and outsole comfort.
Just like all of Ryka shoes, this one also features a lightweight body to prevent foot fatigue along with an anatomical insole with extra arch support to provide exactly what a woman needs to ace any activity. The eight-piece radiuses scale rubber outsole adds extra stability and traction to improve heel-to-toe performance and absorb the responsive impact instantly.
About the "Ryka" Brand
Ryka prides itself on manufacturing engineered shoes specifically for women to suit their unique foot size, shape, and muscle movement. They believe in making a shoe for women, you don't just have to size two a few inches but design the entire shoe ground up to give the comfort that they deserve.
It isn't just an ordinary footwear brand. It's a brand on a mission to make a change.
The brand is a firm believer in empowering women to stand against their convictions and stay ahead in the fitness game using specialized shoes, workouts, and rights. The made-for-women, made-for-more approach has enticed many people to stand with the brand and use the shoes to convey the same concept.
The athletic shoes are packed with specific features for different sports to help women gain equality and the confidence to compete with anyone that comes their way.
Alternatives
Now that you are fully equipped with all the knowledge to buy Ryka Women's Training Sneaker, many of you aren't convinced with the brand of shoe, for that matter. Believe it or not but you are not wrong.
It's never a bad idea to compare and contrast the best shoes available out there before you pick the best women's training sneaker for yourself.
Here are three of the best alternatives for Ryka Women's Training Sneaker
The Latus is specifically designed to perform studio-level workouts anywhere, anytime. It features a strapping system built to support lateral movement and underfoot technology for added shock absorption and versatility to make it second to none.
The custom-built low compression gel layer can endure countless workout sessions regardless of which surface you decided to wear this on. Other than that, the length of the footbed can provide adaptive support to conform every moment and can suit your size quite well.
As for the price, where the Ryka Women's Training Sneaker offers ranging prices depending on your shoe price, it offers a high fixed value that may or may not suit everybody.
Pros
Advanced level comfort and support
Minimizes impact on preventing injuries
It offers a wider range of color options
Cons
The velcro straps aren't tight enough
Not as durable as Ryka
It doesn't fit like Ryka
Check Price On Amazon
This imported pair of Ryka shoes feature a breathable mesh align with flex gear for everyone suffering from arch pain. It offers relatively the same features as the Ryka Women's Training Sneaker but only geared to protect people with arthritis.
The toe area wider than usual, which makes it an ideal choice for people with wide feet.
Pros
Offers exceptional balance
Great for break-in
Affordable
More breathable
It runs true to size
Cons
Lacks Anatomical Precise-Return footbed
Not as stretchable as the Ryka Women's Training Sneaker
The Dynamic Fit Mesh of the shoe's tongue is integrated with a collar to offer an exceptional fit, and a sleek low-cut silhouette can be used for all-day comfort. The shoe is made for running and reduces pressure on your heels without compromising with the performance whatsoever.
Just like the Ryka Women's Training Sneaker, UUBARIS is also a women's specific shoe that is both lightweight and versatile to help you use it for hiking, walking, riding, working, workout, and on vocations.
Considering how it is specifically made of people with narrower feet, you should go a size up for the best fit. Besides that, the breathable mesh can ensure you don't create an unhealthy environment for your feet by sweating on hot summer days.
Pros
Breathable mesh
Arch support
Affordable
Non-slip outsole
Cons
Not suitable for long distances
Not as lightweight as the Ryka Women's Training Sneaker
Special Features (Pros) of Ryka Women's Training Sneaker Options Shoe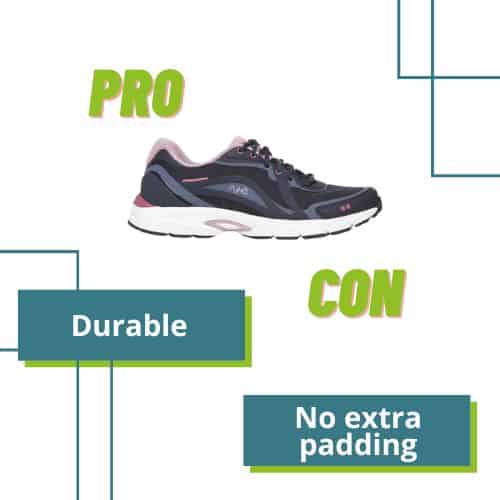 1. Great pivot point to aid 360 movement
The pivot point of a shoe is one of the most underrated features that many people forget to consider. With a good pivot point, you can take an intense twist, turn, and spin without having to worry about trimming over and injuring yourself.
Therefore, the Ryka Women's Training Sneaker is armed with a perfect pivot point to allow 360 movements with ease.
2. Excellent durability
Everything you need in a shoe is present in this incredible footwear by Ryka. The durable rubber and excellent traction can not only support your high levels of activity but can make sure you have the shoe with you for as long as you want.
3. Versatile
Every woman deserves choices in their footwear. Luckily, this shoe is equipped with just the right features to transition from training to a casual walk to the nearest cafe completely seamless. In fact, their versatility is the highlight of most of their footwear.
4. Lightweight
As a general rule of thumb, a lightweight shoe is your cure for fatigue. The same technology of this shoe inclines superior forms, lightweight material, and support to help cut.
Drawbacks (Cons) of Ryka Women's Training Sneaker Options Shoe
1. Not true to size
Although the brand claims the size to fit snug to all the females, there have been a few complaints about the lack of proper sizing for people with slighter wider feet.
Ryka Women's Training Sneaker Buyers Guide: Things to Consider Before Buying a Pair
Whether you are a roadrunner, or a simple fitness enthusiast, wearing a good pair of trainers will not only boost up your performance but resonate confidence in your daily activities as well.
However, where a good pair of shoes can yield unmatched results, a wrong pair of shoes can also run the risk of countless injuries like Achilles tendonitis, hip pain, and shin splints. Here are some of the factors to consider before you dive in headfirst to buy the first training sneaker off the rack.
1. Price
Before anything else, you should understand the concept of pricing to make the best decision when it comes to buying shoes that need to endure hours of intense training, standing, and various surfaces. You surely need something that can support you through thick and thin.
Truth be told: you get what you pay for. A good quality shoe always demands a price higher than the average, mainly because it offers higher than average benefits. However, this doesn't mean you base your decisions mainly on the price factor. Here are some other factors that can help you make an educated decision for yourself.
2. Fit
Although this sounds like a basic factor to consider, many people fail to get the right shoe fit. An ideal shoe should feel snug to a point where you can easily wiggle your toes. If your shoe is too big, you run the risk of slipping out of your training or ending your end with feet full of blisters.
Whereas too-tight shoes can result in bone injury or dreaded toenail problems, and bleeding can damage your nail plate. It sounds basic, but one of the key features in finding a good running shoe is the fit.
3. Heel Height
The heel height refers to the drop that ranges from the toe to the heel of your shoes. Remember, the stiffer the ankle joint and the better your performance will be with your shoes. You can do a lunge test that provides useful information for the light level of shoes.
4. Outsole
Depending on the surface you carry out your training, go for shoes that can best complement your workouts. You might not be able to tell the difference if you haven't had experience in running on the road with hiking shoes.
In fact, the wrong pair of shoes can increase the risk of soft tissue injury and will eventually decrease motivation for that activity.
5. Cushioning
Cushioning is key to getting the right shock-absorbing properties for your shoes. Therefore, when you go out there to look for the best women's training sneaker, it's best to look for a shoe that has been raved for its shock absorbency in the midsole.
Benefits of Ryka Women's Training Sneaker
Ryka influences shoes to meet your requirement for that particular activity best and has excelled at it for the past twenty-five years. The brand didn't just become everyone's woman's favorite overnight.
It has prevailed by making shoes that perfectly support the activity you are going for and offer multipurpose features to add convenience and stay under your picket.
When we specifically talk about the Ryka Women's Training sneaker, the ergonomic design and features support the natural movement of your feet and aids indoor and outdoor performance. Besides that, Ryka Women's Training Sneaker's benefits totally make it worth it.
1. Midsole Stability
The shoe offers outstanding midsole stability that results in stronger structural support. The firm yet flexible body can make the best out of your workout sessions. The ample cushioning can absorb the impact while you are enjoying hustling in advanced physical activity.
2. Outer Construction
The outer construction of the shoe is everything you need to endure bad weather, intense workouts, and rough surfaces. The shoe's rubber outsole can indeed support you for as long as you want without breaking down in the middle of an important event.
3. Heel Cup and Support
The most crucial aspect of a training sneaker, in general, is its heel and cup support, and that's exactly what Ryka Women's Training Sneaker offers. It provides excellent arch support and padding under the arch of your foot to make sure you don't hurt your body during workouts.
On top of that, the padded collar and lace-up framework style can only make it easier for you to strengthen your arch support.
Conclusion
Ryka Women's Training Sneaker is undoubtedly one of the most popular shoes of the brand, and it's for a reason. The two different styles, excellent features, unique foot design, and energy return properties are what make it stand above most of its competitors out there.
Once you are armed with the knowledge of this shoe, make sure you compare the other options, which can make sure you never regret your decision in the long run.
Therefore, be clear about your priorities, go through the alternatives again, and take your best!
Tell me how it goes!