Whether it is your feet' fatigue that is restricting you from indulging in your favorite water activities or the fear of falling on slippery surfaces, Merrell Waterpro Maipo comes with a wide array of cutting-edge features that can combat it all.
But is it really what it claims to be? Here's a brutally honest review of one of the best water shoes available that can answer all of your swarming questions before you know it.
So let's get right into it!
About the "Merrell" Brand
Merrel is one of very few brands that triggers the problem from within to develop solutions that you've never seen before. The breathable material used to make the shoe makes it effortless to keep your feet dry and airy.
Vibram TC5+ outsole
Kinetic Fit BASE removable contoured EVA insole with water friendly top cover
What makes it ideal for outdoor water-related activities is its water-friendly synthetic and mesh upper known to improve the transition between water and land easily.
To eliminate the well-known feet fatigue problem, Merrel is always armed with a Kinetic Fit BASE removal contoured EVA insole that can work just as great in the water as it does on land.
To aid the shoe's excellent support, you get to have a webbing lacing and a toe bumper to protect you against any injuries in the water.
Strengths (Pros) of Merrell Waterpro Maipo
1. Excellent for Hiking
Considering how hikers need highly grippy shoes to have a secure journey, Merrell Waterpro Maipo comes with just the right Vibram TC5+ outsole that can plant your feet strong on the ground. Its lug is 3.5 mm deep to withstand any terrain you are planning to hike on.
The remarkable design used to make this footwear enables you to enjoy each hiking journey regardless of whether it is wet or dry.
2. Breathability
It is no surprise to see you exhausted after a hectic day of adventurous activities. Luckily, with Merrell Waterpro Maipo, that's not the case. The breathable shoe offers cross-ventilation, and the water-friendly synthetic can be ideal for improving your performance on wet surfaces.
The shoe structure also protects you against any potential bumps and accidental knocks to enable a completely safe and enjoyable journey.
3. Support
One of the most common complaints about outdoor shoes is their inaccurate size that can cause blisters or slip right off while you're busy doing something that you truly love. The true-to-size structure of the shoe comes with integrated webbing to optimize the ideal fit of the shoe.
The shoes' placement and design are what promote efficient drainage of water to allow quick-drying and smooth overall performance.
What's more, the metal loop placed at the straps in the midfoot and near the ankles can only add an element of uniqueness to this already perfect aqua shoe.
Drawbacks (Cons) of Merrell Waterpro Maipo
1. Can let debris and tiny rocks inside the shoe
Although it is excellent to get water flow out of your shoe, it lacks the right system that can also do the same for tiny rocks that can make your journey slightly uncomfortable.
Alternatives
Although, as you can already see, the unmatched benefits of Merrell Waterpro Maipo shoes, it's never a bad idea to have a look at other shoes so it can prove to be a good investment over time. Here are the top 3 best alternatives of Merrell Waterpro Maipo that you must check out.
vibdiv Men's Water Shoes - Quick Drying Outdoor Lightweight Sports Aqua Shoes
WYHAN Water Shoes Mens Womens Quick Dry Barefoot Aqua Socks
MAINCH Women's Hiking Water Shoes Quick Dry Outdoor Sport Sneakers
Thanks to the shoe's elastic neckline, you can easily adjust the shoe's laces and tightness of the foot. This is highly needed when you are carrying out complex workouts and ensuring your feet are secure at all times.
These quick-drying aqua shoes are specifically made to suit men's foot structure to offer them the ever-needed personalized comfort and convenience.
What sets this shoe apart from the rest is the excellent cushioning properties that excel at keeping your feet protected against sharp objects without making you feel tired whatsoever. The updated holes also add to the numerous perks of Vibdiv Water shoes.
Suppose you want something that can instantly improve your performance by adding protection and lightweight features, this one for you. The unique and top-quality anti-slip rubber outsole of WYHAN Water Shoes is the epitome of a perfect protective shoe for all men and women out there.
The holes are structured to get rid of the water and prevent sand and debris from getting inside your shoes. What gives it the upper hand over the rest is the ultra-lightweight water shoes that give you the freedom to do anything, anytime.
The multi-functional properties of this outstanding shoe can allow you to wear it for snorkeling, windsurfing, beach volleyball, kayaking pilates, parasailing, weights training, diving, all with the comfort of one pair of shoes.
Nothing can improve your physical performance like MAINCH Women's Hiking Water Shoes does. The quick-dry textile mesh upper is water-friendly and has a proven record of keeping your feet dry and comfy at all times.
The lace-up style of the shoe makes it easy to adjust the shoe's size for that ever-needed support and stability.
The unique design with shock-absorbing midsole channels eater evacuation and air ventilation to help you ace any water-related activity you want. That's not it. To make sure you don't suffer from any injuries, this shoe features synthetic ribbons on both sides.
Merrell Waterpro Maipo Buyers Guide: Things to Consider Before Buying Water Shoes
Regardless of how incredible a pair of water shoes may be, if you don't know what you want and what is really "out there," you will never be able to make the right purchase. Therefore to help in this quest to find your ideal water footwear, I've collated a list of factors you must consider before buying your first water shoe.
1. Price
Price is inevitably the major factor to consider before any purchase. Lucky for you, this isn't your concern when it comes to water shoes. Any shoe you see on the market is highly affordable to help you access it without breaking your bank.
2. Traction
In general, the traction of water shoes is similar to a hiking shoe. This means it can allow you to run and walk on highly slippery surfaces. The structure is specifically designed to carry out the unpredictable intense foot movements of outdoor activities.
3. Foot Protection
As we all know, the underwater terrain is completely different than the one you're used to with. Therefore it is important to go for water shoes that can help you perform efficiently under the water and the land.
This is mainly important because of the different rock textures that may even cut your skin while you trip over it. The rubber outsole must be thick enough to keep your feet guarded if you stumble upon a stone or any other rough surfaces.
However, bear in mind, all of this idle if you aren't going for the shoe's right foot size. It has the potential to cover your feet like a glove and yield maximum protection from each angle.
And how will you know it's the right fit for you?
When you try on the shoes for the first time, look at the toes of your feet. Are they covered by the thick black rubber on the tip of the shoe? If not, that's when you will understand that this might become the cause of your future foot injuries.
Benefits of Merrell Waterpro Maipo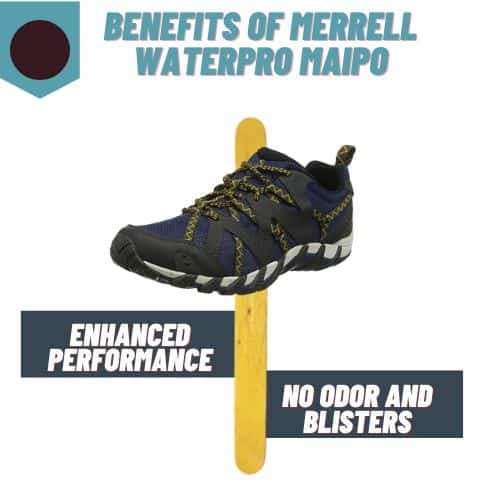 No odor and blisters
One of the major reasons you get blister is not having adequate support and fit of the shoe that will stick with you through thick and thin. The injection-molded thermoplastic urethane and heel wraps make sure to keep your feet protected, and the antifriction lining is ideal for easing blisters.
As for odors, the root of the cause does not have enough drainage flow to get rid of the water as soon as possible.
The Aegis antimicrobial treatment used in the shoes makes sure to keep the odor at bay and saves you from embarrassment in front of your friends and family.
Enhanced performance
The dynamic webbing and lacing system gives a free-floating feel to your feet to make the most out of your shoes. One thing that makes Merrell Waterpro Maipo stand out from the rest is the in-board compression-molded EVA foot frames and air cushioning shock absorption to bounce back every time you hit hard on the ground; how awesome is that!
Other than this, the nylon arch shank also offers superb torsional stability to let you wear your water shoes all day long.
What Others Are Saying About Merrell Waterpro Maipo
According to Gap Year Escape, the shoes are incredibly crafted with a Lycra collar and tongue that provides padding second to none. One of Merrel Waterpro Maipo's loved features is the Strobel construction, which makes them highly comfortable to wear.
Many people do not know that this pair of shoes is completely vegan-friendly, which means there were no animals harmed during the process of making each pair for you. The Vibram WaterPro with TC5+ rubber is also responsible for keeping your shoes waterproof at all times.
Conclusion
The Merrell Waterpro Maipo is specifically designed to satisfy people who love to enjoy the adrenaline rush of outdoor activities. The out of the box features like high versatility and unwavering adhesion is what sets it apart from the rest of the shoe types out there.
One thing to bear in mind is always looking into the technical details of all the competitor products to distinguish the one you actually want. That said, I'd urge you to set out your clear requirements, cross-check with Merrell Waterpro Maipo then to its alternatives to come up with your ideal purchase.