Teva Evo offers a wide selection of shoes to allow you to enjoy your favorite outdoor activities to the fullest. The color patterns and styles are some of the things that have made their name in the footwear industry.
When it comes to planning your special outdoor adventure; you need to make sure everything goes according to your plan. Now that the tickets are ready and you're fully equipped with the resources, the only thing that can potentially ruin your experience is having sore feet while you're happily enjoying your favorite water activity. Well, you need better water shoes for this reason.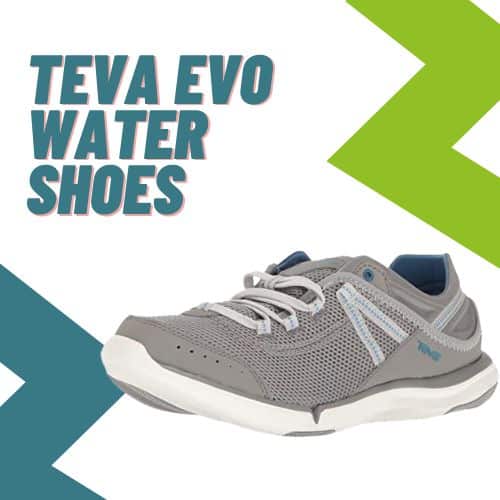 To eliminate this, Teva Evo Water Shoes are all the way to your rescue with its highly comfortable footwear that is specifically designed to keep your feet not only comfortable but dry as well.
About the "Teva" Brand
Teva Evo has retained its exemplifying spirit for over 20 years to bring out the best water shoes that people worldwide celebrate. With Teva, you can instantly amp up your style with their fine variety of colors and patterns specifically made to suit people of all personalities.
-Lace-up closure lets you dial in the perfect fit
Injected EVA-foam midsole for lightweight, cushioned comfort
-Mixed-material upper
-Spider Original rubber outsole
Therefore, whether you love going the extra mile to make a statement with striking bright pieces or keep it neutral for a more sophisticated look, Teva has never failed to offer practicality with aesthetics.
The Teva Evo Water Shoe is ideal for people who frequently prefer to spend quality time with a paddleboard, canoe, or kayak. To prove the brand's credibility, many well-known athletes and fitness enthusiasts have been seen traveling the world in the gorgeous Teva footwear.
Strengths (Pros) of Teva Evo Water Shoes
1. Quick-drying
Teva Evo uses quick-drying recycling materials to ensure maximum comfort while keeping your feet dry at all times. Their recycled items include plastic bottles and polyester yarn to stay sustainable in their endeavors.
2. Adjustability
Understandably, it can be a risky decision to take something unsupportive to your adventurous journey. Therefore, Teva Evo is equipped with a trademarked strapping system that allows you to adjust the shoe's tightness.
3. Durability
Considering the hectic wear and tear of your shoes, a good water shoe must be consistent with features that can keep up with your fast pace. Luckily, Evo provides just that with its rubber outsole that provides durability and traction to ensure a long-lasting experience.
Drawbacks (Cons) of Teva Evo Water Shoes
1. Not enough sizes
Although you will be able to get a variety of shoe sizes, the company lacks enough half sizes.
Teva Evo Water Shoes Alternatives
Now that you're fully armed with full knowledge about Teva Evo, you can never judge its effectiveness unless you know what's really out there.
To help you do just that, here I have compiled a list of the top 3 best alternatives that you can use to compare Teva Evo's features.
SIMARI Water Shoes Womens Mens
SOBASO Womens Quick Drying Water Shoes
This pair of shoes uses a rubber outsole with a specially designed pattern to increase friction and protect you against slippery conditions.
The uniqueness and the quality of the shoe lie in the structured holes that also aid drainage and cross ventilation to provide everything you need to have an enjoyable experience.
The elastic shoelace can be freely adjusted, and the highly flexible upper layer can comfortably cover your whole foot like a glove.
One of the best things that set SIMARI Water Shoe apart from the rest is the versatility that it offers to its users; with this, you can rest assured to wear these shoes at the beach volleyball, fishing, kayaking, swimming, surgeon and windsurfing to help you live life to the fullest.
This one is no ordinary water shoe. If you want to indulge in thrilling adventures while getting a relaxing foot massage, CanLeg Water Shoe is just the right choice for you.
Its non-slip and durable sole is made of rubber, which is ideal for a shoe to have. You can easily take the shoes over or play over sand and enjoy the refreshing experience of swimming in the pool.
The decompression performance, adjustable lacs, lightweight stricture, and breathable insole are a few features that have made this shoe one of the favorites for many fitness enthusiasts out there.
Other than that, the multipurpose use of this shoe can not only help you carry out outdoor activities like driving. Dance and other water activities, but its security features are also excellent to keep your feet safe at all times.
If you absolutely loathe bearing with the complex adjustability option of your water shoe while you're on the go, SOBASO Water Shoe is made for people just like you. The manufacturer promises to have quick-drying to let you take each step in a cool, dry, and comfy manner.
The stretchy thick rubber sole offers foot protection to help you enhance stability and comfort. The unique elastic lace allows you to slide your feet easily inside the shoe without worrying about tying your shoelaces every two hours.
Just like the ones mentioned above, SOBASO is exceptional at allowing you to indulge in your favorite water activities like surfing, water park, parasailing, and kayaking to make each second memorable.
If you have any doubts, their company is kind enough to let you contact them for any questions regarding the size, color, and style to help you get exactly what you need.
Teva Evo Water Shoes Buyers Guide: Things to Consider Before Buying a Water Shoe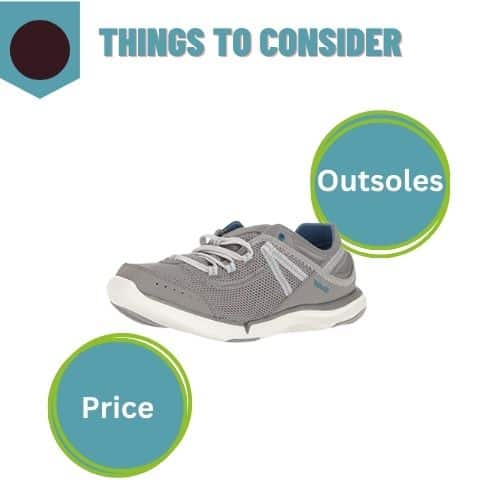 Many people confuse their flip flop for being water shoes. Although they offer water resistance, they can never get the job done as well as a water shoe.
But here's the catch.
They can only elevate your experience if you are choosing the one that works the best for you. Therefore, before you purchase your first pair of water shoes, make sure you are aware of what you want the shoe to offer you.
Here are a few of the things you must base your decision on.
1. Price
Fortunately, water shoes are a lot cheaper than most of the other types of sneakers out there. However, if a brand offers you a pair with meager prices, beware of the types of materials they use to make that specific shoe. There's a solid chance that you will find something fishy there.
2. Outsoles
An ideal water shoe features a thick outsole with a tread pattern that can withstand wet and slick surfaces. The grip is highly needed if you want to stay away from potential injuries. Thus, make sure your water shoes come with a thick outsole that can help you walk or stand on slippery rocks.
3. Durability
Poorly designed water shoes are more likely to do you more harm than a standard shoe that offers no features to withstand the slippery environment.
An ideal design of a water shoe must include a breathable upper mesh, a slightly arched midsole, traction, holes for drainage in the outsole, and an overall glow-like fit to ensure it doesn't slip off while you're enjoying your favorite water activities.
4. Support
As you walk or swim on slippery surfaces, your feet will inevitably move in unpredictable positions. If your water shoes don't offer the right support, you also run the risk of twisting your ankle or losing your shoe during the activity.
Benefits of Teva Evo Water Shoes
1. Reduce foot fatigue
The EVA midsole present in the Teva Evo water shoes reduces your foot fatigue by providing the ever-needed cushioning, heel cup, and adjustable straps.
2. Improve posture
One of the main ways we have poor posture while carrying out water activities is how uncomfortable our feet are.
3. Anti-odor
Teva Evo uses a specific Microban anti-odor treatment that ensures to keep your feet odor-free, so you don't have to embarrass yourself in front of your friends.
Conclusion
All in all, Teva Evo is an excellent way to provide aesthetics and practicality at the same time. They are highly covenant and easy to put on and off, which can be quite useful when you don't want to keep up with the complicated water shoe style.
Before you buy this shoe, make sure you have your requirements ready on top of your mind to see if this is what you're looking for. If you find yourself doubtful about a specific feature, it's never a bad idea to look into other options and make an educated decision.