If you are thinking of starting a fitness routine, I can assume aerobic exercise is definitely on top of your list.
From fitness trainers to gym enthusiasts, you are most likely to find people singing the countless perks of aerobics.
They aren't wrong.
Aerobics is an excellent way to get your heart pumping, oxygenate blood flow, and improve your fitness level in a way that no other workout routine can.
But are these benefits enough to give aerobics the fame it currently has?
Here's the ultimate guide to aerobic exercise to help you get started with ease. In the next few minutes, you will learn about the different aerobic exercises, benefits, and any precautions you need to take before doing aerobics.
What Is Aerobic Exercise?
Aerobic exercise in definitive terms refers to anything related to cardiovascular conditioning.
This means your body heavily uses oxygen to make your muscles work and improve energy. This way, you can reach your fitness goals – not only by burning fat but make more
sustainable changes by improving your body from within. 
Best Aerobic Excercise Shoes For Men
Best Aerobic Excercise Shoes For Women
Image
Product
Features
Price

BEST FOR: Dance fitness + Low-impact workouts
PERFORMANCE TECH: N-Gage energy return foam for shape retention + cushioning on impact
MADE FOR WOMEN FIT: Designed for a woman's unique foot shape with a narrower heel, roomier toe, and softer foot cushioning
MATERIALS: Breathable mesh with faux leather overlays for extra durability + Padded heel for extra cushioning
OUTSOLE: Ergonomically-shaped rubber sole for extra durability where you need it most + Pivot Point for smooth and easy turns

Check Price

MONO-SOCK Fit System: An elastic internal sleeve which replaces a traditional tongue providing a "sock-like" fit.
Seamless Construction: The use of seamless materials reduces the potential for irritation and friction caused by traditional stitches and seams.
Rearfoot GEL Cushioning System: Attenuates shock during impact phase and allows for a smooth transition to midstance.

Check Price
Types of Aerobic Exercise 
1. Running/jogging
Running or jogging is one of the most effective and beginner-friendly ways to start your aerobics journey. To master this, simply alternate between walking and running for a couple of quick sessions.
You can run or jog 2 to 3 times a week for 20-60 minutes for best results. Another trick that can improve your productivity is to count on an accountable buddy or fitness partner to help you enjoy your daily morning jogs and remain productive throughout the journey.
2. Aerobic Dancing
Dancing is an excellent way to keep up with aerobics without restricting yourself to countless rules and equipment. My favorite thing about dancing is that you will dance to your favorite songs, move, and before you know it, you are ready for your 30-minute workout.
If you are ready to get started, read my complete guide on the best Dance Workout Videos For Weight Loss. *insert internal link*
Again, do this 2 to 3 times a week for around 30 minutes for best results.
3. Aerobic strength circuit
The aerobic strength circuit is for everyone who likes a little challenge and variety in their workouts. It gets your heart pumping and includes some classic moves that are incredibly easy to do.
Here are some workouts you can incorporate into your aerobic strength circuit:
Planks
Glute bridges
Squats
Lunges
Push-ups
The aerobic circuit should be no longer than 25 minutes and try to do 3-5 times to keep you in shape.
4. Swimming
Swimming is an excellent low-impact workout for people who struggle with joint pain.
Therefore, start swimming with laps using one stroke and eventually move up to more complex moves like backstroke, breaststroke, and butterfly to improve performance.
If you are a newbie, I recommend taking a few minutes to catch your breath and avoid burning out in the long run. Swim 2-5 times a week for 10-30 minutes.
5. Cardio dance class
Don't shy away from a good cardio dance class that is the ultimate favorite of all aerobic enthusiasts!
Unlike dance aerobics, you can include Tap, Jazz, or modern hip-hop dance into your cardio dance class routine and burn some stubborn pounds. The best part? You don't have to worry about sucking in dancing.
As long as you are moving your body, you are all set to rock any cardio dance class! It is best to dance for around 60 minutes 1-2 times a week.
How often and for how long should I do aerobic exercise?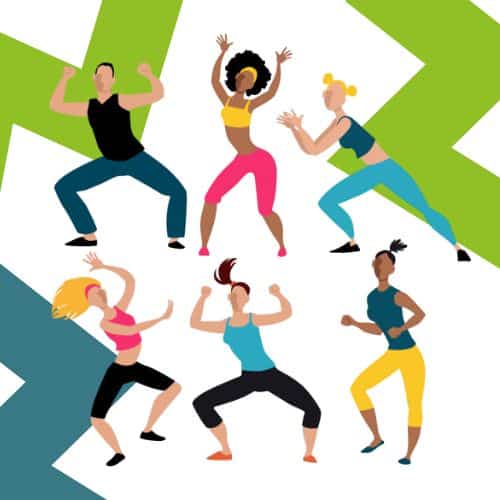 The #1 mistake that most people make when it comes to workouts is to do long, intense, and wrong workouts in the first few days of their routine. This is why you fail to live up to your new year's goals every year, Linda!
According to the American Heart Association, everyone needs to do at least 30 minutes of cardiovascular exercise 5 to 7 times a week.
Now, the rest is up to you. There are different variations of workouts that you can throw into your schedule. This means take 10 minute walks thrice a day or alternating days between dance and swimming to keep your mood uplifted at all times.
Benefits of Aerobic Exercise
The best part about aerobic exercise is that you can do it at any age, athletic ability, or height. This gives you enough flexibility to try a range of workout options without struggling with perfecting your routine.
In fact, as aerobic exercise requires relatively less equipment, most people prefer to start their aerobics journey from home. Here are the seven best benefits you can expect from aerobics.
1. Help shed excess pounds
Aerobics workout coupled with a healthy diet can make you unstoppable and become the best version of yourself. Although aerobics, in general, is more tiresome than weight lifting, as you gradually build up the intensity, it will have you fight fatigue and boost stamina in no time. But it also comes with advanced perks for your cardiovascular health that makes it worth it.
This means you can feel more motivated to stick to your fitness routine and lose weight.
2. Fight off viral illnesses
In general, aerobics exercise is known for improving breathing and boosting overall health better than most other workout types. This also includes activating your immune system to fight off viral illnesses and boost your metabolism.
However, the only way to unlock these benefits is to stay consistent with your workout and take a progressive approach to all your exercises. Here, I suggest you begin with something light and easy and gradually build up the intensity with time.
3. Manage chronic conditions
If you are currently struggling with chronic conditioning like high blood sugar, arthritis, or cholesterol, counting on aerobics can be your best bet to go. Most people who suffer from other coronary artery diseases have also noticed a significant improvement in their energy levels and health problems.
It does this by lowering your low-density lipoprotein (LDL) which is the "bad" cholesterol causing all the havoc in your body.
4. Strengthen your heart
Aerobics exercise is widely known for removing plaque from your arteries and helping strengthen your heart.
How?
As a general rule of thumb, a stronger heart doesn't need to beat hard to keep you active during workouts. If it does, it's not strong enough. And that's exactly what aerobics aims to eliminate. It does this by improving efficient blood flow throughout the body and offers more flexibility.
Thus, aim to increase the intensity and duration every week to improve your cardiovascular health effectively.
5. Stay active as you age
Let's admit it, the biggest concern most of us have is not enjoying our retirement time with all the joint pain and laziness that creeps over all your happiness.
Just imagine depending on someone to walk you to and from the toilet. You don't want to live the rest of your life miserably, do you?
This is why you need aerobics exercise. It strengthens your muscles and increases mobility as you age. This can lower the chances of injuries in older adults. It also helps keep your mind sharp and shows incredible results in cognitive functioning.
Things to Consider Before Doing Aerobic Exercise
Now that you are fully armed to ace your aerobics journey, you don't have to be the weirdo who follows the "Ready, fire, aim" strategy at the gym. Instead, imagine getting into health issues only because you forget to consider the important aspects of aerobic exercise.
But worry not fella! I've done all the homework for you.
Here are some of the things to consider before doing aerobics.
1. Check your health
Before you dive headfirst into the gym, it's best to consult your healthcare provider and get a medical examination of your overall health. This will help you prepare for any precautions you need to take and ensure you stay on the safe side.
Your consultant can also help optimize your workout and create a custom-made fitness plan for you to suit your needs.
2. Intensity
The goal of working out should be to maintain an ideal intensity that will burn fat and improve cardiovascular conditioning, all without exhausting your body. Here, 60 to 70% of Max Heart Rate for 30 to 60 minutes every day can be a great way to work out in the healthiest way possible.
Once you move ahead of this stage, go for 70 to 85% and then 85% to 95% to stay out of your comfort zone.
The key is to level up your intensity every time you get comfortable with your existing routine.
But the intensity isn't the only way to level up your aerobic sessions. If shooting up the intensity is too tricky for you, it's OK to increase the duration by 5 minutes every week first. Once you have mastered that, gradually boost the intensity to keep your body over the edge.
3. Warm-up and Cool Down
If you take a random look around at the people in your gym, you will see most of them not warming up or cooling down by the end of the session. It is crucial because this is the key to preventing injuries and burnout in the long run. Once you focus on warming up, you will notice a drastic improvement in your athletic performance and reduce post-workout soreness that is the enemy of most fitness enthusiasts.
You can incorporate simple warm-ups like leg kicks, walking, or lungs to get the blog pumping. As for cooling down, it is also an essential part of the aerobics session to help bring your body bat to its original state.
In fact, taking a few minutes to calm down has shown incredible improvement in breathing rates, muscle soreness, and productivity. Thus, try to cool down with a light walk or stretch after your intense workout to do the trick.
Frequently Asked Questions (FAQs) 
Aerobics vs. anaerobic: What's the difference?
Because of the extensive variations of definitions available, aerobics became a synonym for countless other workout classes out there. However, anaerobic exercise is different. While the word "Aerobics" refers to anything related to oxygen, anaerobic means without oxygen. 
This means anaerobic workouts involve short bursts of high-intensity activities to boost metabolism, fight depression, and strengthen bone density. Some of the anaerobic workouts include HIIT, heavy weight lifting, and sprinting. 
What is the best aerobic exercise at home?
Aerobic exercise is by far the most convenient workout routine you can opt for. You can create a plan for some of the best aerobics exercises at home and begin shedding rapid pounds in a matter of a few weeks. Here are some workouts that can make this possible: 
-Jumping jacks 
-Aerobic dance
-Burpees
-Running in place
-Jumping rope
Is aerobic exercise good for losing belly fat?
Aerobic exercise is an excellent choice for losing belly and liver fat. You can begin with running, work your way up to more intense workout plans, and speed up the entire process. 
So, What's Next?
If you've reached here, congratulations! You are all ready to start your aerobic exercise journey. Remember to start with small steps; this is especially important if you are a newbie or struggle with a chronic health condition.
When I say small steps, it can even mean going for a short 10-minute walk to your nearest grocery. If you have trouble sticking to your fitness goals, seeking perfection can also be a problem.
Therefore, start from where you are and do anything active every day. Be it aerobic dancing, jogging, stair climbing, or swimming. The point is to be active and enjoy your workout sessions. Once you master that, it will get a lot easier to create and stay consistent with our workout schedule.
If you have any other health conditioning, make sure to seek advice from your doctor and ask for alternatives. Here, it's best to count on a specialist to give you personalized suggestions rather than browning for another guide on workouts.
Good luck!