Water shoes have the potential to evaporate the water quickly from your feet, and Columbia Drainmaker III excels at providing just the right ventilation and non-slip grip to yield ever-lasting comfort and support.
If you see yourself in and out of the water daily and want to step up your game, water shoes can make the whole journey effortless for you. These shoes are designed with traction and protection in mind and are often used to provide exemplified comfort for all water lovers.
I'm sure you've already stumbled about the raving perks of Columbia Drainmaker III. The footwear has a stellar record of offering exactly what you need to indulge in your favorite outdoor activities.
But are these claims even real?
Here's a complete guide to answering the burning questions to help you make the right decision.
So, let's get started.
About the "Columbia" Brand
Combination open mesh and synthetic upper
Midsole ports for air-flow and water drainage
Columbia has prevailed its name to manufacture top-rated shoes of this footwear industry. If we specifically talk about Columbia Drainmaker III, this shoe can easily be worn on land and water. It looks like a standard running shoe; you get a confidence boost while using water footwear on land.
The fast-drying properties, high-tech traction, and Omni-grip are what make people go head over heels for this water shoe. As if this wasn't already enough, the synthetic upper and padded collar aligns well with the midsole to provide air circulation and drains water to leave your feet dry and comfortable at all times.
With 10.1 ounces in weight, this shoe is excellent to allow you to enjoy the water, trekking, and hiking exercise all while being candy for the eyes.
Strengths (Pros) of Columbia Drainmaker 3
1. Breathable Mesh
If you are someone who easily gets claustrophobic with tight shoes, Columbia Drainmaker III eliminates this problem using a durable TPU toe cap and a tech lite midsole with drainage ports on the opposite sides of the shoes to allow water to drain out easily.
2. Fast-drying
Along with the well-known Omni-grip properties of the shoe, the fast-drying feature is what makes this shoe stand out from the sea of all the rest of the shoes out there. It can be worn anywhere you like and still be comfortable with its appearance.
3. Lightweight
Having a lightweight shoe is highly crucial to carry out your regular outdoor activities. This feature is ideal for performing effortless underwater and making the transition from water to land quite smooth.
4. Versatile
Although I've already mentioned this excellent property before, this concept needed more emphasis. Unlike many other shoes that only excel at providing a specific feature, Columbia Drainmaker III is armed with cutting-edge comfort and durability, which makes it ideal for water activities and kayaking, cycling, fishing trekking, and camping as well.
Drawbacks (Cons) of Columbia Drainmaker III
1. Poor Laces Quality
Although the shoe has raved for its excellent fit, it lacks the right quality in its lacing. There have been many complaints about its too long and frequently-undone laces that can make it a little bothersome to wear.
Therefore if you want to wear this pair of shoes, I'd suggest you go for an additional better quality piece of lacers to make up for it.
2. Not Ideal For Running
If you look at the manufacturer's description of the shoe, it claims the shoe to be for water and running purposes. However, due to the lack of right cushioning and forward-movement, it can not be used for marathons.
Columbia Drainmaker III Alternatives
Now that you're aware of what Drainmaker III can or can't offer you, it's never a bad idea to compare apples to apples to find the best option. And you guessed it right; you don't have to leave this page to do any of that sort. Here are the top 3 best alternatives for Columbia Drainmaker III.
TIAMOU Water Shoes for Womens and Mens
SIMARI Mens Womens Water Shoes Sports Quick Dry
GOOD STUDIOS Men Women Quick Dry Water Shoes
Unlike Columbia Drainmaker III, TIAMOU comes with a rubber shoe that provides flexibility to adjust your shoe size without keeping with the messy laces. This exceptional shoe's upper material has abrasion resistance, storm air permeability, heat insulation, and salt resistance to give you exactly what you need to have a good water experience.
It also comes with a camouflage rubber sole filled with holes to drain out the water and leave your feet looking dry and healthy at all times.
This shoe is known for its highly snug fit that can cover your feet like a glove. With this, you can guarantee your soft skin and breathable experience as it's based on ergonomic principles to provide good cushioning.
The 8 holes on the sole of the shoe ensure to keep your feet odor-free and dry, all while offering a unique bump texture to keep things balanced.
This fantastic pair of shoes is known for its lightweight hydrophobic and quick-drying mesh that can keep your feet comfortable and breathable. The water grip and cushion present in the shoe give a better grip than most of the shoes out there.
The aqua sneakers also come with excellent toe protection that can help cope with any problems you may have while running on wet surfaces. What makes this piece unique is noticeable aesthetics that look fashionable on both men and women.
Besides that, just the ones mentioned above, this shoe is also highly versatile to allow you to carry out walking, running, hiking, sailing, and other water activities, all with this single pair of shoes.
Now, here's something interesting to note. If you've check out the products, there is definitely a significant price difference between the alternatives and Columbia Drainmaker III.
Columbia Drainmaker III Buyers Guide: Things to Consider Before Buying a Water Shoe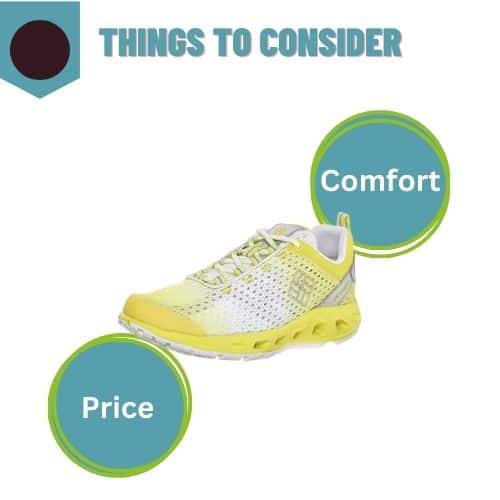 If you tend to enjoy the wilderness of outdoor activities, Drainmaker III is all the way to make sure the process goes completely smoothly for you. However, such shoes have the potential to make or break your journey. Therefore, it is essential to pay close attention to what you're opting for before you mindlessly make a purchase.
Here I have created a roadmap of how an idea water shoe should look like to help you in this hunt.
1. Price
Sure, you don't need to break your bank in buying the right shoe. However, investing some good bucks on a high-quality piece that can potentially last for some solid years is better than investing a little on a shoe that will rip off within a few months of wear and tear.
Besides that, if you barely like to hit the water or do outdoor activities, it's alright if you stick to your bidet since it will not endure considerable heavy-duty work.
2. Comfort
Some shoe brands make lightweight and breathable shoes at the expense of the comfort of the shoe. Remember, this is something you can quickly start to reduce the quality of your journey too.
If you are not sure of the shoe's comfort, ensure whether the manufacturer accepts returns or refunds of your shoe. If they do, go for a long trail to truly get an idea of how comfortable your shoes are. If you happen to encounter a problem with your shoe, immediately get a refund or opt for a different shoe.
3. Support
If you are likely to use your shoes for long periods of time, you will need shoes that provide excellent ankle support to prevent any potential injury. However, if you are more fond of outdoor activities like fishing and boating, just go for a water shoe that can provide good durability and versatility.
Benefits of Columbia Drainmaker 3
1. Protection
Water shoes tend to cover and protect your entire foot with thick soles to provide safety against rocks and shells. Therefore, opting for one of these instead of your regular hoes can instantly enhance the whole outdoor water experience.
2. Traction
While you are having the time of your life in the water, you also run the risk of slipping and getting yourself into a severe injury; Columbia Drainmaker III is made with a specific tread that provides outstanding traction and non-slip grip while you are walking or running on wet surfaces like boat docks, water equipment, and decks.
What Other Are Saying About Columbia Drainmaker III
According to Instrumental ST, Columbia Drainmaker III is the right choice for people who don't want to break their bank nor struggle to find a separate shoe for each of their water and land outdoor activities. This is because the shoe is packed with water resistance properties and a strong grip to keep you comfortable and sturdy on the land.
Why Choose Columbia Drainmaker III?
So why opt for Columbia Drainmaker III over water shoes that offer the same features but at a much affordable price?
Where the alternatives discussed above are centered around fun aesthetic appeal, Columbia Drainmaker III is armed with high-quality practical features that use their signature Techlite footbed and frame for maximum cushioning and impact absorption. That's not it, Drainmaker is also known as one of the most durable and robust shoes you can buy in the market today.
This difference between the quality and functionality is what makes spring each penny spent on Columbia Drainmaker III worth it.
Conclusion
All in all, as we come to the end of the review, here's what I want you to take away from this post. Columbia Drainmaker III is a highly versatile shoe that can fix all of your problems associated with water outdoor activities.
However, before blindly opting for any pair of shoes, it's always wise to do your side of the comparison and check out the best options, so you don't regret investing a single penny in your sneakers.
Good luck!