The internet is flooded with several reviews and researches featuring these two indoor fitness bikes – tagging the Peloton as the "overall best" and that of the Renpho as the "best AI-Powered alternative."
But how true is this consensus? Are reviewers truly fair to these two products with their judgment? Surely this is a question to think about.
I'm here to provide you with facts based on solid research to help you make the best decision as a buyer and not sugarcoat things because of my personal preference.
So the topic for this discussion is; Peloton vs Renpho: Which Is Better and Why? Walk with me on this journey to find out for yourself the better of the two fitness machines.
Renpho vs Peloton Comparison
Renpho Review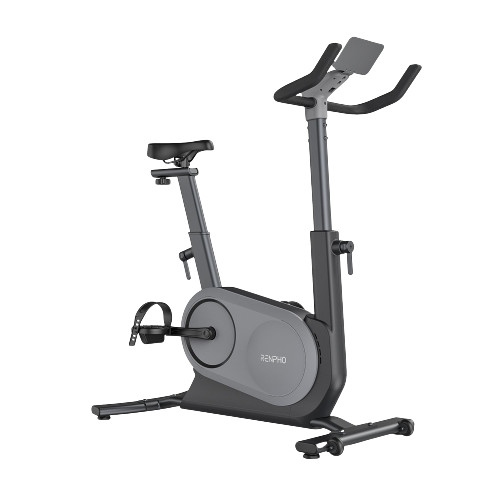 The Renpho AI-powered bike comes with a price rating of $699, making it affordable compared to the Peloton.
By getting the $100 coupon, you can even have it for $599. It comes along with handlebars, pedals, basic frames with mount, and adjustable height sliders that go with the seat.
The pedals are just like those found on most modern bikes. You can easily replace them if you so wish.
Additionally, it comes with front-mounted wheels for easy movement and a USB port for charging the device.
It is personalized to provide AI training programs and Functional Threshold Power Training every week.
No matter the level you want, whether being the fat burning, muscle strength, endurance training, or beginner stage, you would have workouts that suit your preference.
It functions under auto resistance, meaning that the resistance can increase when intervals get more difficult, or roads get harder.
This, in turn, makes an effort much tougher without the intervention of the user. It sounds good, right, specifically for a bike in this price range.
There is even more. There is also a free app that doesn't demand any subscription fee, and the bike is compatible with apps like Kinomap, Zwift, Rouvy, and FulGaze.
Pros
Affordable
Personalized workout for all
Training optimization with AI technology
The large cushioned seat allows for ergonomic comfort
Enclosed wheels and smooth freewheel design helps in ensuring safety
Free downloadable phone app with over 45 plus well-structured classes
Smart motor damping precision helps in accurate resistance and real-time power calculation
Cons
Quite difficult to operate
Peloton Review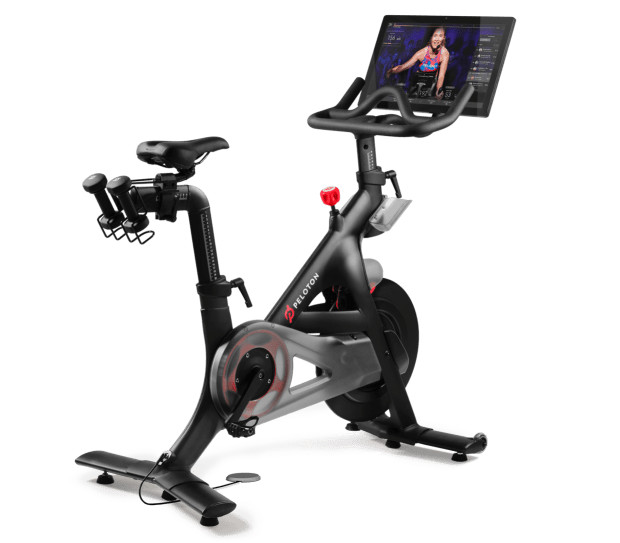 Peloton is an indoor bike that comes along with a 22-inch HD touchscreen connected to its front to provide users with Peloton's live and on-demand fitness classes.
It came into the limelight in the year 2019, and since then, it has grown into one of the sought-after fitness machines on the planet.
It is incorporated with a handlebar that moves up and down, a fixed screen that streams workouts, an adjustable touchscreen for different heights, a steel and powder coated frame, an adjustable seat for comfort, a resistance knob to control the difficulty of pedaling, and a leaderboard to have workouts with other members.
Plus a 12 month warranty period. It is generally robust and a good choice for any fitness enthusiast.
Pros
Fairly quiet
Has warranty
Sturdy and solid
Easy to transport
24/7 classes connection
Join an online challenge
Great online community
Comparatively affordable
Easy to assemble and fold
Connect with popular fitness apps
Cons
Pricey yet top-notched – you get what you pay for
Peloton vs Renpho: The Brand
About Peloton
You perchance already know the Peloton by name if you are reading this article.
For starters and the uninitiated: the Peloton machine is an indoor exercise bike equipped with Bluetooth connectivity, WiFi-enabled, adjustable seat, handlebars, aluminum pedals, and a 22-inch HD touchscreen that enables users to stream both live and on-demand fitness classes in the comfort of the home.
It allows riders to do cardio exercises, plus compete among themselves, and by using the leaderboard, riders see their ranking based on energy used.
It offers exercise classes ranging from yoga, running, meditation, and strength training. Listing at $1,895 with delivery and assembly included.
But you need to budget for a monthly subscription fee of $49 if you want to continue streaming it live programs
About Renpho
The Renpho brand is a globally known technology that majors in individuals' well-being, health, and overall fitness.
Unlike other fitness machines, the Renpho is widely acknowledged and accepted because it considers health and wellness matters.
Its features are carefully developed and perfected by the company's cluster of processionals. Founded in 2015 and currently headquartered in Eastvale, California.
The machine is not just affordable; it is efficient, reliable, and dependable. It comes with an AI app that tracks trainers' biometric outputs to have effective workouts.
It can even translate your data kept over time into charts and reports that can easily be transported to an email or certain social media platforms.
Peloton vs Renpho Buyer's Guide: Things To Consider Before Investing Your Hard-Earned Money
1. Price
Renpho is the cheaper of the two bikes. Currently listed for $699 with $599 as a coupon price.
Its features are just okay for users looking for a solid home workout machine. Its free classes also place it a little higher than the Peloton.
But mind you, you will have to invest separately on the screen. However, a tablet or a phone should be enough to do that though.
You can mount it or even charge it while you train. Its competitor, Peloton, on the other hand, comes with a price rate of $1,895.
This makes it a little pricey as compared to the Renpho. And if you are thinking of having or taking advantage of its live classes, you have to consider paying a monthly extra of $49. This will give you access to all of its classes.
2. Design
The Peloton bike is sleek in design and extremely robust in shape. Its seat, handlebars, and screen can easily be adjusted to accommodate virtually any size rider – riders between height range of; 4'11" and 6'5" who weigh a maximum of 297 pounds.
The uniquely designed handles have an auxiliary adjustment that rotates after the bolts are kept intact.
Apart from the pedals that can quietly be turned, the sensitive electromagnetic resistance simplifies the bike's adjustment.
The saddle can also be adjusted high or low to suit the riders' posture. The Renpho bike, on the other hand, is made with carbon structural steel – coming in with dimensions of; 40-inch length X 20-inch height X 49-inch width.
Based on its size, you can squeeze it into your living room or even bedroom. It is indeed a space saver. The handlebars, seat, and display height can easily be adjusted to fit your position too.
3. Footprint
The Renpho comes along with a Footprint of; 3.1' X 1.4' (4.3 sq. ft), while the Peloton has a Footprint of; 4' X 2'. This helps when moving the bikes from one point of your house to another.
4. Resistance
The Peloton comes with a magnetic resistance with mechanical adjustment, while the Renpho comes with a smart motor damping resistance.
5. Weight Capacity
The Peloton can take a maximum weight of 297 pounds, while the Renpho, on the other hand, takes a maximum weight of 265 pounds.
The actual weight of the Peloton is 135 pounds, and that of the Renpho is 77 pounds. This, therefore, makes the Peloton a little heavier than the Renpho.
6. Comfortability
The Peloton offers more comfort because of its overall weight. Therefore, people who are obese can even count on this bike.
But between the two bikes, if you are looking for the one that will save you extra space at home, the Renpho is the best choice. This is due to its dimensions.
7. Build and Construction
In terms of construction, the Peloton is made with steel and other high-quality materials. It is embedded with a saddle, pedal handlebars, and a built-in speaker that you can listen to your favorite songs as you ride.
It takes up a working space of; 24-inch on all four sides. Again, it is incorporated with an HD touchscreen that streams classes and shows stats and rankings.
The Renpho, on the other hand, is built with carbon structural steel. Its height makes it suitable to accommodate tall people.
8. Warranty
The Peloton comes with a limited warranty period of 12-month, while the Renpho has a 30-day return policy as part of the package.
9. Assemble
The two bikes come along with a user manual with instructions that makes setup easy and flexible. The Renpho bike is even 95% pre-assembled. You have to include some parts to start using the bike.
10. Social Interaction
The Peloton has such a massive online community you can network with some of its members on personal projects or even count on them when using or operating the bike.
The numbers are in their thousands, and surely, this is one great thing that set the Peloton apart. Renpho, on the other hand, doesn't really offer much when it comes to social interaction. It is not so competitive as the Peloton.
Features and Benefits – Similarities & Differences
Benefits of Peloton vs Renpho
1. Cardiovascular Health
One main reason why many people invest in the Peloton bike is how it approaches cardio and heart training.
This is indeed a machine that approaches cardio in a very wonderful way. You can only expect something less when you choose a different machine.
The Peloton wouldn't disappoint with this. The Renpho is quite okay too, but it doesn't do it so well like the Peloton. The Peloton surely knows the tricks when it comes to cardio training.
2. Weight Loss
You can count on any of these two machines if you want to lose some weight. Weight loss is one main reason why people invest in these bikes. Users burn so many calories when using any of the bikes.
3. Body Toning
When it comes to body toning, the Peloton stands out tall, but the Renpho does not also disappoint.
Renpho vs Peloton: How Are They Different?
As a buyer, there is no way you will want to buy two machines that basically do the same thing. Unless you really have an earnest need for the two. Like gifting out one to someone.
Without a need for an extra bike, I don't think anyone will want to invest extra in a bike.
You may be asking yourself: so, how are these two bikes different? This is a list of how different these two bikes are
| | | |
| --- | --- | --- |
| Differences | Peloton Bike | Renpho Bike |
| Price | $1,895 | $699 ($599 with coupon) |
| Subscription | $49/month | No monthly subscription |
| Frame | Welded steel, ED powder coated | Carbon structural steel |
| Resistance | Magnetic with mechanical adjustment | Smart motor damping |
| Dimensions | 59-inch length X 53-inch height X 23-inch width | 40-inch length X 20-inch height X 49-inch width |
| Maximum weight | 297 pounds | 265 pounds |
| Weight | 135 pounds | 77 pounds |
| Connectivity | WiFi | Bluetooth |
| Power range | 100V – 240V | 0 -1000W |
| Access | Access to live classes and thousands of more on-demand classes | Available through an App |
| Seat | Sport series saddle with an ergonomic channel | Adjustable seat |
| Screen | 22-inch HD touchscreen | Have to fix your own screen either through a phone or a tablet |
Renpho vs Peloton: Are They The Same?
The two bikes are never the same in any way. Even though they perform functions like weight training, provide access to fitness classes, possess certain similar features, like the handlebars, resistance, and app that operate on both iOS and Android platforms, their overall mode and features are different.
In terms of weight, the Peloton is a little bit heavier than the Rnphon. And not only that, the AI-generated workout, smart auto damping frame, and other key features and functions set the two bikes apart.
Which Is Better And Why?
If you are actually a fan of spin bikes, and that's what you use to put your body into the best shape, then the Peloton definitely might be the right choice for you.
You wouldn't have a lot to worry about when you invest in this product. It basically produces the spin training experience with its live and on-demand fitness classes.
The best choice for having cardio workouts and for burning calories so you lose a significant amount of weight.
Unlike its counterpart, the Peloton Plus, this Peloton model uses a manual knob to regulate pedaling difficulty.
This certainly is one of the negatives about the Peloton. But during workouts, instructors will normally advise you on how to turn the knob up or down.
You will definitely love the Peloton if you enjoy the competition. On the other hand, others also appreciate the Renpho because of its price.
Additionally, you can download and install the Peloton app on your android/iOS phone or tablet to enjoy all of its classes.
You have to be willing and ready to pay the monthly subscription fee. It is a good alternative to the Peloton, for it offers a similar experience to the Peloton.
Which Do We Recommend?
I recommend the Renpho based on its affordability. You don't have to invest too much to get this bike. You wouldn't have to worry about any monthly subscription fee either.
All you need to pay is the $699 starting fee, and you are done; you can even have it less at $599 if you perchance get the coupon.
However, if you want to know why the Peloton has so much hype around it, just invest in that instead.
The reason why it seems so pricey is that you get exactly what you pay for. You will get a quality bike you can depend on for a very long time.
Therefore, I recommend the Renpho because of its cost, but for buyers who have enough funds and want to have a full biking experience, the Peloton is the right choice.
There is some mystery about the Peloton that words cannot explain – In fact, only an experience can. People do not covet it for anything; it is the real deal.
Conclusion
The big question here is really a matter of what type of rider or person are you? Are you the kind of person that competition is such a big deal to you? Do you impulsively speak to yourself when you hear of competition?
Did you answer yes? Then I tell you this; the Peloton bike is the best choice for you. You have to forget about the cost and buy the bike.
It will serve you that and even more. You will have the feel of what an indoor cycling experience truly is.
Their instructors would blow your mind with their wide range of classes. They are simply the best in this business.
However, if your mantra has always been on price, then the Renpho bike will fit you very well. It will surely offer you a lot. In fact, you wouldn't have to worry about the monthly subscription.
The ball is now in your court to decide. Just choose based on your need. I hope this guide clears many of your doubts.