The whole home-gym trend is slowly catching up. A spin bike would usually be among the first pieces of equipment purchased for the setup.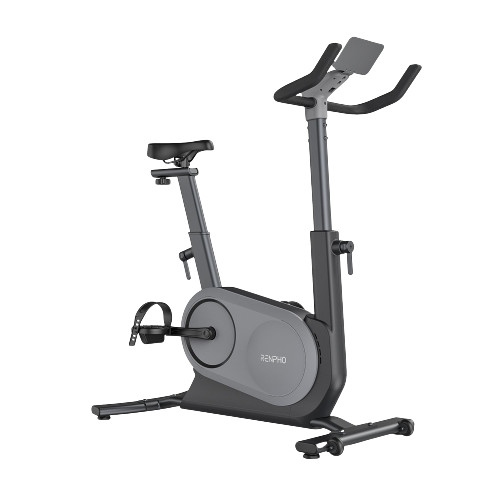 They are convenient, cost-effective, and genuinely impactful healthwise. There are so many spin bikes on the market today. One of the most outstanding newcomers of them is the Renpho AI-powered bike.
Here's a breakdown of what we'll cover in this Renpho AI-powered bike review:
About the "Renpho" brand
Special features of the Renpho AI bike
Drawbacks of the Renpho AI bike
Buyers Guide: Things to consider before buying an Indoor Cycling Bike
Benefits of using the Renpho AI bike
What others are saying about the Renpho AI bike
3 alternatives to the Renpho AI bike
Final thoughts on the Renpho AI bike
Renpho AI bike review
About the "Renpho" brand
Renpho is a smart home products maker based in Hong Kong. The company is best known for its smart body fat scale, massager, and air purifier. It has over 7 million customers worldwide and just introduced the Renpho AI bike this year!
Special Features (Pros) of Renpho AI Bike
Great design
It's hard not to the love compactness of the Renpho AI-powered bike. As you'd expect in 2021, the bike has a sleek, minimalist design.
It measures 40"*20"*49" with a footprint of 3.1'*1.4'-it can fit in small spaces and ideal for both country and city use. The seat and handlebar support bars are separated by the freewheel compartment.
The rear-mounted pedals allow for a full-leg extension during each cycle. You have the option to use the stock SPD pedals or the adjustable toe strap.
A standard 9/16" thread allows you to replace the pedals with your favorite pair. I'm impressed by the 26-lb weight limit on the frame. The majority of people may find the bike sizeable.
A 32-lb freewheel is used for two reasons. Firstly, create a ride that feels as natural as possible. Secondly, to ensure the riders' safety as the design allows for minimal-delay emergency stops.
The Renpho bike uses a low-maintenance belt drive that's also silent. You can work out at any time without bothering anyone.
There are barely any writings on the frame. This keeps the bike clean and stylish. It's super easy to set up the bike. Simply adjust the handlebar and seat heights using the installed levers to ride.
Note that the seat's horizontal position can also be adjusted. A pair of stabilizers with caliper wheels are installed to keep the grey bike stable.
Functional Threshold Power(FTP) training
You're probably wondering why the Renpho bike is referred to as the first AI(artificial intelligence) bike. Well, I'm not sure the name is correctly used but let me explain what they mean.
The drive train that varies resistance is controlled by a brushless servo motor. It allows for very precise changes in control inputs.
Combining this with your biometric data( heart rate, power wattage, etc), the bike adjusts the resistance output of the motor in real-time. Meaning no two individuals would experience the exact resistance level on the bike. By curating your experience based on live data, the Renpho bike earns the AI title.
On the other side, a digital thermostat-style knob allows you to manually select any of the digital 80 resistance levels. A colored LCD shows the resistance value.
Renpho calls this a Functional Threshold Power drive train. The company claims that the motor has over 90% accuracy.
Free App
The Renpho gym app connects to the bike's resistance unit via Bluetooth. You get more than 45 courses pre-recorded in the app. Each of them with 4 possible modes-beginner, fat burning, endurance, and muscle strength. The content is curated by the best coaches from Les Mills.
A 100V-240V AC input plug powers the bike. With an 18W power rating, the bike has a super low maintenance monthly cost.
The setup process of the iOS/ Android app is easy- just fill out your profile information and connect. The dashboard displays vital performance information.
These include your pedaling speed(RPM), output power(watts), calories burnt, duration of a training session, and training zone.
This way, you can plan how much time you need to work out every day based on your progress. Speaking of which, the app can share your cumulative progress data to other platforms such as Zwift, Peloton, Kinomap, XERTetc.
Not only can you use a standardized training program but you can also set and track your own goals. This could be weekly, monthly, or daily.
The User Interface displays your progress using simplified checkmarks, graphs, and numbers. For instance, a percentage value is assigned to a weekly goal that increases as the days go by.
Group riding is also available on the app. This allows you to connect and ride with remote friends. On more relaxed days, you may enjoy the scenic rides, just to get you pumped!
Price
Besides its design and drive train, price is the other outstanding feature of the Renpho bike. At $699, the bike is cheaper than other offerings in its class especially Peloton, or the Echelon smart connect bikes. Considering you get a carbon structural steel frame, Bluetooth, a unique drive train, and a free app, it's a sweet deal!
The company has also partnered with Affirm to provide a partial payment plan. It's distributed over 3 months with $230 installments at 0% Annual Percentage Rate. I forgot to mention the adjustable device mount with a USB charging port also included in the package.
Drawbacks (Cons) of Renpho AI Bike
Lacks a built-in display
The Renpho bike has no display, unlike Peloton. You need to separately purchase a tablet/iPad if you don't have one already.
Limited Content
As much as the app is free, it still lags behind the competition in terms of the number of courses. To put it in context, other paid platforms like Echelon Fit and Peloton digital have thousands of classes with the number growing every week. However, both apps cost $39/month.
Buyers Guide: Things to consider before buying an Indoor Cycling Bike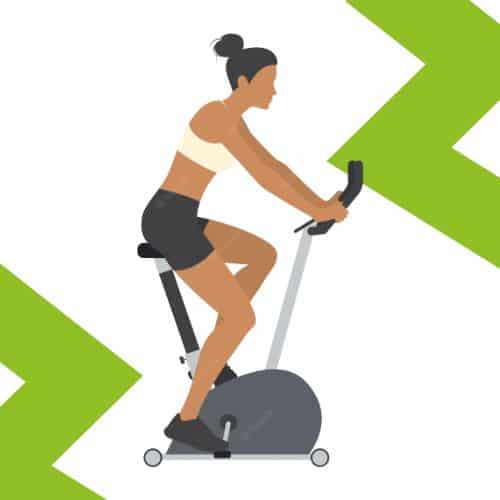 Price
Fitness is a lifetime journey. You want to make it as fun as possible and that's going to cost. How much entirely depends on your budget.
However, note that you get what you pay for. That implies that you need to spend a lot to get good quality. I have great news for you, things have changed now.
Depending on your intentions, it's possible to get a great spin bike for a few hundred dollars. This means that you have the liberty to spend on other peripherals that will improve your athletic performance. Since more than one person can use a bike, I'd recommend that you make a one-off purchase of a quality bike.
This will earn you a better hardware and software experience. It also allows you to enjoy the most comfortable rides while improving your consistency with fitness.
Build, Construction and Assembly
Check your own weight and height along with all other people who are likely to use the bike. This will guide you to the correct frame design.
Such details as height and weight limits are usually easy to find on a vendor's website. Be sure to do thorough window shopping. Next up, ensure that the handlebar and seat are vertically adjustable.
This is mostly delivered in the form of a mechanical lever that's typically easy to spot on the frame. It's also necessary that the seating position can be adjusted horizontally.
This allows you to find a comfortable angle for your spine. A pair of stabilizers is also crucial to ensure your safety at high speeds.
Confirm if the vendor delivers the bike pre-assembled. If not, do request for the installation manual to be included in the package. This process should be clearly outlined in sequential steps with no special tools or skills required.
If you're not exactly a DYI person, kindly factor in the cost of hiring a qualified technician to do the assembly.
Most bikes come with a pair of caliper wheels to ease movement. Others are foldable to conserve space. Either way, go for a bike that's convenient for your context of space and usability!
Resistance and Drive train
While there both mechanical and magnetic resistance flywheels, I'd recommend the latter. It's maintenance-free, smooth, and has a wide range of adjustability.
More modern bikes, as with the ones I recommend, do have electronically controlled flywheels. These use motors to vary the level of resistance and ride quality.
This way you can control your riding experience straight from the app. Whether or not you live in a crowded apartment or your compound, a silent bike is always preferable. This means that you should go for a belt-drive train. These are friction-free, work perfectly, and require no maintenance.
Customer Service
I'm assuming you'll make your bike purchase online. Errors may always occur in the manufacturing or dispatching of bike orders. You may receive a faulty bike or one that doesn't work at all. This happens, although seldom, even with the most experienced of manufacturers.
This is why you need a free-return policy as a clear term on your purchase agreement. Again, let's assume you receive a faulty bike that fails soon after, say after a week or a month.
What do you do? Kindly insist on a warranty that's valid for at least a year. It should cover the frame and most parts.
Finally, ask for the complete cost of the bike, no hidden fees. Let the vendor put forward all costs including tax, delivery, and assembly charges.
On this note, always take your time before completing your purchase as offers, discounts, and coupons always pop-up from time to time! These significantly cut the cost.
Connectivity
I use to think that cycling is just cycling and tech couldn't simplify it any further. Boy was I wrong! Tech is everything in this day and age, and for a reason.
Cycling computers and apps allow you to see the otherwise unseen. For instance, without any external assistance, it's hard to quantify the calories you've burned during a cycling session.
Heart rate, cadence, power output, oxygen saturation, and goal-tracking are some of the information you can get from cycling technologies.
You have no idea just how much this awareness can fast-track your fitness goals. Features such as Bluetooth and ANT+ should be on your priority list if you are to connect many devices to your bike.
Regardless of your budget, it's possible to find bikes with pre-installed consoles that display performance variables such as speed, distance, and time.
However, if you're willing to stretch your budget, you can get better tech. The trend appears to bias fitness apps with spin and other classes. Way to go!
Benefits of using the Renpho AI Bike
Improved Health
Cycling remains one of the best ways to keep fit. On this note, bringing a spin bike into the comfort of your house is a plus. You're likely to work out longer and get healthier.
Wholesome Exercise
The Renpho bike in conjunction with the Renpho gym app allows you to peep into your body. They provide key performance indicators such as training mode, power output, calories burned, and progress.
This data helps you to strategically stretch your time and intensity on the bike in line with your fitness goals.
Affordability
The Renpho bike is significantly cheaper than its competition. It costs less to acquire and nothing to use. You also get the option to make partial payments for the bike at a 0% interest rate.
Free app
the app is free. I don't know about you but the 45 courses available on the app should keep you busy for some time. You may also use other apps such as Peloton and Zwift along with the Renpho gym app.
Comfort and safety
The Renpho bike not only looks great but also feels great to ride. Both the handlebars and the seat are fully adjustable to allow for comfortable riding positions for different users. The bike uses a freewheel that stops as soon as the rider pauses pedaling. This makes it safe at all speeds.
Alternatives to the Renpho bike
1. EX5s Echelon Smart Connect Bike
The Echelon EX5s smart connect bike has a similar frame as the EX5. However, it comes with a new 22" rotating HD touchscreen. It's super immersive and allows you to maximize your experience of the Echelon Fit app. It is Wifi, Bluetooth and ANT+ enabled. This allows you to pair up with secondary fitness devices such as heart rate monitors and smartwatches.
The bike costs $1639.98 with a flexible payment plan starting from $42/month at a 0% annual percentage rate. Note that their estimated shipping time is 2-3 weeks from the time of purchase. Once the package arrives, it's covered by a 30-day free return policy and a 1-year warranty.
Pros
Echelon Fit app
Huge built-in display
Partial payment plan
Easy to set up and use
Great minimalist design
Cons
2.EX-5 Echelon Smart Connect Bike
The Ex5 is the successor to the aforementioned EX3. It costs $1239.98 with a partial payment plan as well. Installments start at $32/month with a 0% interest rate and no deposit.
A 30-day free return policy covers all orders along with a 1-year warranty. You get quality hardware measuring 20"*54" making it compact enough for smaller spaces.
The unit weighs 112lbs including the 32lb magnetic flywheel onboard. With a weight limit of 300lbs, most people can use the bike. 32 resistance levels can either be automatically controlled by the Echelon Fit app or manually using the knob on board. There's a flexible(up to 180 degrees) device mount to clip in your tablet.
Its aero-style handlebars are vertically adjustable using a lever mechanism. Making them quite comfortable. The seat is large, well-padded, and aerated. It's two-way adjustable- vertically and horizontally.
Pros
Stable
Great design
Strong steel frame
Partial payment plan
Weight/ water bottle rack
Cons
Lacks an in-built display
Conclusion
The Renpho AI-powered bike is a worthy contender in the smart spinning space. It features a modern minimalist design with a compact footprint. Bluetooth connectivity along with automated resistance adjustment motors make it an excellent fitness companion for the modern person.
The relatively low-cost price, partial payment option, and free gym app make it one of the best offers on the market! I'd recommend the bike to anyone, just on the price versus features basis!