Yes, you need to know how to clean water shoes properly!
Got it.
We all love water activities, walking in fresh water and mud, tubing, fishing, kayaking, and of course swimming. And anyone who is fond of these outdoor adventures also have a pair of water shoes in their wardrobe.
Trust me, your running shoes, white sneakers, leather or suede sneakers won't cut it here. You need a proper water shoe like the Merrell Men's Waterpro Maipo 2 Water Shoes for men and the Columbia Women's Drainmaker IV or Ryka Women's Hydro Sport Water Shoe for women.
Also Read: Best Water Shoes for Plantar Fasciitis
Best Easy To Clean Water Shoes
Image
Product
Features
Price

BREATHABLE FABRIC: Upper is made of mesh material with elastic, like socks that snug your skin softly that keep breathable and quick-dry experience.
PROTECTIVE SOLE: The soles is made of rubber materials with bump texture design that easily keep balance in slippery place and protect your feet from hot beach, grit on land or in water.
CONVENIENT WEARING: The elastic-shoelace with locking mechanisms can quickly adjust the loose, and elastic shoes neckline allows you easily to put on and take off.
DRAINAGE DESIGN: Each sole has 8 holes to ensure well in drainage that keep feet-feeling cool even in water.
OCCASIONS: SIMARI water shoes perfectly suit for beach or water games like swimming, kite surfing, pool, sailing, kayaking, beach volleyball etc. Especially for family outings!

Check Price

Updated speedo water shoe
Stretch upper allows for pull-on entry and secure fit
S-trac outsole offers no-slip grip
Maximum breathability;Shoe Weight: 10.0 oz
Quick-drying materials

Check Price

Breathable and durable air mesh upper allow the foot to breathe
Solyte midsole provides an exceptionally lightweight midsole with excellent bounce-back and durability
Water drain outsole provides exceptional traction in wet and slippery conditions
ComforDry sockliner provides the optimum cushioning performance that creates a cooler, drier and healthier shoe environment.
Open mesh on the upper and hole on the sole provides for superior breathability and quick drying

Check Price
So, what do you need to get started!
What You Will Need to Clean Smelly Water Shoes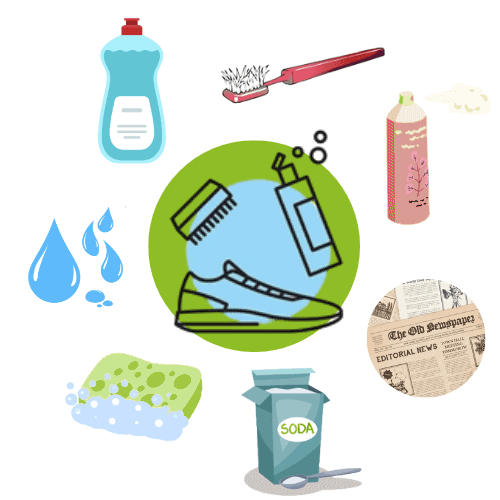 Dish soap/shampoo/handsoap – 1tsp
Like warm water
Sponge
Baking soda – ½ cup
Old newspaper/dry rag
Old toothbrush
Deodorizer solution
And lastly, your stinky water shoes
Armed with all the products and tools? Here is the guide that you've been looking for.
Also Read: 10 Best Water Weights For The Pool: Everything You Need To Know!
How To Clean Smelly Water Shoes – Step By Step Instructions
Step 1:
Start with a clean sink, remove the shoes and loosen any external parts. It includes rubber fasteners or laces.
Remember you don't want to put on your best water shoes for more than necessary as the lack of ventilation in some shoes can not only grow more fungus and bacteria into your shoes.
Later, fill up your sink with lukewarm water and add a tablespoon of dish soap/shampoo/hand soap. A good laundry mild detergent will work all the same. Maybe some white vinegar wouldn't be bad.
Step 2:
Now that your shoes are soaking add half a cup of baking soda to the water and ensure your shoes are properly soaked in. then dampen the sponge and sprinkle some more baking soda onto the sponge directly in order to have a more concentrated solution.
Step 3:
Once you are done with that, you need to leave your shoes for around 15 to 30 minutes to let the baking soda absorb most of its bacteria and soften the excess dirt to help you scrub it off easily.
Step 4:
After this time, come back and thoroughly scrub your shoes from the inside out. For the corners you can't reach with a sponge, feel free to count on an old toothbrush to do the trick on that stubborn stain.
Remember, your water needs to be slightly hot here as it can help eliminate the shoe odor and kill bacteria. Then leave it again for the next 30 minutes.
Step 5:
Give them a good wash again using any soap that you may have and keep it under running warm water – not hot water until there is nothing but water left in the shoes.
Step 6:
It's time to dry out your shoes. Now, here's the thing with drying. Regardless of how well you wash your shoes, if you don't dry properly, all your effort will go to vain.
This is because unless your shoes are dried right after cleansing, the bacteria can quickly form again in the moist atmosphere. Therefore, you need to completely drain the water out of the shoes and use an old newspaper or a dry rag to absorb the water from the inside and outside of the shoe. Use a damp cloth or clean cloth if its a clean white canvas shoes, beach shoes or water sock.
Step 7:
Just to be on the safe side, you can go ahead with a blow dryer and dry out the shoes until you are 100% sure that there is no moisture left.
Sept 8:
Now, smell your shoe. If the smell is still present, add 1t bsp of baking soda directly inside the shoes and keep it overnight to repeat this process again. A soft brush on bad smell plus a little vinegar or bleach actually works for me.
Step 9:
However, if your shoes smell as fresh as new, it's time you move on to the next step and add some deodorizer solution in a bucket for a recommended period of time. Bear in mind; these solutions can only take away the shoe odor, not kill the odor-causing fungus and bacteria.
Step 10:
After that, keep your shoes out in the sun to get rid of the remaining bacteria from your shoes. You can even go for a blow dryer to speed up the process but air drying in the sun is still the best option.
Then wake up in the morning and smell your shoes again. If it doesn't stink, you're all set to go and enjoy your favorite outdoor water activities.
But here's the problem.
Considering how hard it is to carry out this process, some people leave it halfway, which does more harm than good. So take your time and clean your water shoes properly and most importantly, on a regular basis so you kill the germs before they even build up to cause odor.
Also Read: Can you Swim with Water Shoes? A Comprehensive Guide!
The Art of Cleaning Aqua Shoes
Water shoes are mostly made of neoprene and rubber that tend to encourage bacterial growth if not cleaned properly before storage. Eventually, they start smelling real bad.
One solution is to get non-neoprene shoes and stay away from all types of odors. But that is certainly not a permanent solution. You are, at some point, going to need neoprene shoes.
How to clean any shoe – whether clean white shoes, suede shoes, leather shoes or water shoes can be a pain. Therefore, any question about cleaning shoes needs a proper and detailed answer.
So here's my question to you?
How often do you properly clean your water shoes and Sandals?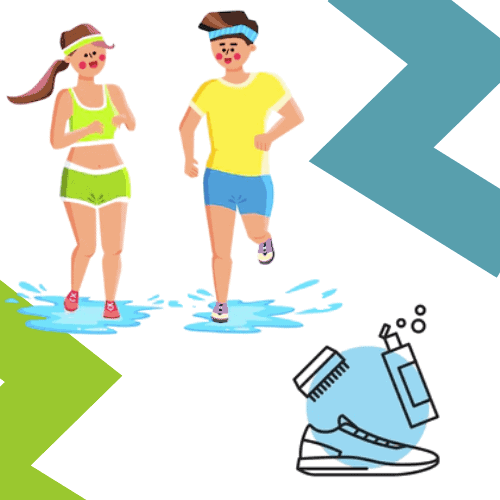 If you wear them regularly, chances are, the built-in bacteria and stubborn stain will take more than simply tossing them in the washing machine and eliminating their bad shoe odor.
If that's your concern, here is a complete guide that unveils all the expert secrets you need to know on how to clean water shoes right at the comfort of your home!
So, let's dive in!
Why Do Water Shoes Smell? Common Mistakes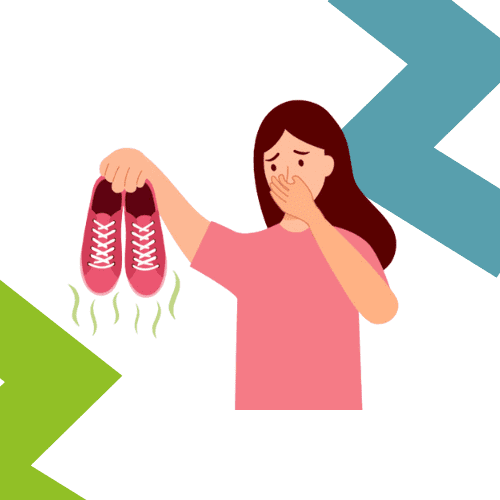 A water shoe tends to get stinky rather quickly than most of your other shoes such as a sandal or running shoe. This is because water shoes, in general, are synthetic and made of neoprene and rubber, and these shoes don't originally come in a lovely scent either.
Since they don't offer breathability as natural materials do; the bacteria, fungus, dirt, and sweat increases with time to cause unbearable smelly shoes.
So, let's look at some of the common mistakes we all make and end up having a smelly water shoe.
1. You Don't Wash Your Water Shoes
The bacteria residing in your water sandals shoes get even worse when you don't clean or deodorize your shoes on a weekly basis. This may not be an issue for some; for others, it can be embarrassing to see someone bowling over because of your stinky shoes!
That's not it; if not treated at the right time, it can lead to numerous health issues like Bromodosis and trench foot.
2. Not Deodorizing It
Washing simply gets rid of the surface-level bacteria, which can always form after a few days.
Here, cleaning and deodorizing are interconnected.
To make sure you completely eliminate the root of the problem, you need to correctly deodorize your shoe after every wash. That will not only kill the bacteria but give a refreshing fragrance to your water shoes too.
However, bear in mind this isn't a once-in-a-lifetime thing; you need to rigorously keep up with its maintenance for increased durability and performance.
3. Not Taking Care Of Your Feet
Stinky shoes begin with smelly feet. Think about it: why wouldn't your shoes stink if you barely ever took care of your foot.
In fact, this can be the biggest reason why you are struggling to have nice and clean shoes. Therefore, keep your toenails trimmed, and calluses filed at all times and tackle any issue you have related to your feet. If you usually have cracked feet make a habit of applying a thick layer of foot lotion to your feet and wear socks before sleeping to lock in the moisture.
Now that you have identified all your mistakes, it is high time we start finding solutions that can ensure you leave the post fully armed with step by step instructions on how to clean water shoes the right way.
Frequently Asked Questions (FAQs)
Can I wash my water shoes?
Of course, you can! However, washing it the right way can only make a difference and your shoes are in their ideal condition. This means you start off by rinsing your shoes with warm water, scrub, leave, dry, deodorize, rinse and let them dry again in the sun for best results.
Can you put aqua shoes in the washing machine?
You can surely wash your aqua shoes in the washing machine. However, it may be as effective as washing it with hands as it involves using a few additional set switch baking sodas to get a deep clean. It's not recommended to put them on the dryer.
How do you wash swim shoes?
Usually putting them in a freezer overnight can do the trick; however, if it doesn't, you can count on the google ol' baking soda to kill the odor-causing bacteria and fungus, you can also try placing fresh lemon, or orange peels into the shoes.
If you want to go the extra mile, you can either remove the insole and run them in the washing machine along with a few towels or cover your entire shoe in a pillowcase and give it a good wash. Let them air dry before wearing them again.
Can you clean water shoes?
Yes, you can clean water shoes. It's recommended to rinse them thoroughly with fresh water after each use to remove sand, salt, or other debris. If they're very dirty, you can wash them with mild soap and water. Always air dry them completely before storage to prevent mildew.
How do you clean water shoes so they don't smell?
To clean water shoes so they don't smell, begin by rinsing them thoroughly with fresh water. If they still smell, wash them using a solution of warm water and mild detergent. Scrub gently, focusing on areas that smell. Rinse thoroughly and allow them to air dry. Using a shoe deodorizer can also help eliminate any lingering odors.
How do you wash wet shoes?
If your shoes are wet and dirty, remove any loose dirt first. Then, create a solution of warm water and a mild detergent. Use a soft brush or cloth to gently scrub the shoes, paying special attention to particularly soiled areas. Once cleaned, rinse them thoroughly with clean water. Let them air dry completely before using them again or storing them.
How do you clean water shoes with vinegar?
To clean water shoes with vinegar, prepare a solution of equal parts vinegar and warm water. Soak the shoes in this solution for about 30 minutes. The vinegar will help remove odor and kill bacteria. After soaking, scrub gently with a soft brush if needed, then rinse thoroughly with clean water. Let the shoes air dry completely.
There you have it …
Coming to the end of the cleaning guide, I'm sure you are not only armed with the right knowledge but feel motivated to head straight to the bathroom to start cleaning. And if that's the case, you may need to bookmark this guide so you have proper instructions a few clicks away every time you are cleaning your washing shoes.
Good luck, mate!