Merrell Men's All Out Blaze Sieve Water Shoe is known for fixing all of your water-related problems to ensure you have a blast during your water-related adventurous activities.
Long before the concept of water shoes came into the picture, people used to suffer from painful blisters and, not to forget, the unbearable experience of having to put up with wet and stinky shoes through their journey.
Nowadays, water shoes like Marrel Men's All Out Blaze Sieve Water Shoes solve this problem by offering you highly comfortable and water-resistant shoes that are specifically made to elevate your adventurous water experience.
So, let's review the brand and particularly this shoe by looking at its pros and cons.
About the "Merrell" Brand
Full grain leather upper
Integrated lacing system for a glove-like fit
Neoprene stretch collar for easy on and off
Protective toe cap
Kinetic Fit BASE removable contoured insole for flexible support
Merrel excels in manufacturing outdoor footwear that positively impacts the lives of people worldwide. One of the things that distinguish this brand from the rest is its strong vision to add value, generate the welcoming idea to be the best version of yourself.
Merrel has made their mark to manufacture shoes for all of your favorite activities. From day trips, long walks to water activities, you can count on Merrel to be backed with shoes that come with various features to suit people of all interests.
What's more, the brand focuses on bridging the gap between outdoor performance and style to bring you everlasting comfort and aesthetics second to none.
If we specifically talk about the Men's All-Out Blaze Sieve Water Shoe, it is armed with a protective toe cap, Kinetic Fit BASE, and neoprene stretch collar that makes it effortless for you to carry out complex foot movements.
Strengths (Pros) of Merrell Men's All Out Blaze Sieve Water Shoe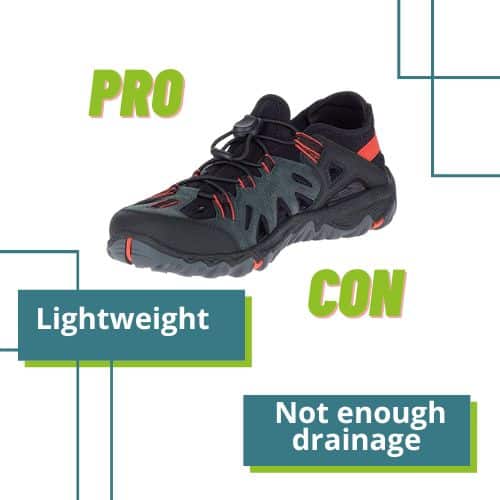 1. Lightweight
Having a lightweight shoe is crucial to make the most out of your adventurous experience. It makes the transition of water to land easier, but according to thousands of Merrel customers, it can instantly make hiking and climbing more enjoyable.
2. Sturdy Build
Considering the hectic wear and tear of adventurous outdoor activities, you can always expect to get yourself in serious injuries.
This shoe eliminates this problem but using the right rubber outsole that keeps your feet firmly planted on the land and provides support while you're immersed in the fun of water activities.
3. Versatile
Browse through the internet, and you will see their customers raving about the shoe's ability to provide protection and support for long hiking too. This is especially needed when you don't want to break your bank nor spend hours researching and finding out shoes for each of your favorite outdoor sports.
Drawbacks (Cons) of Merrell Men's All Out Blaze Sieve Water Shoe
1. Not enough drainage for hiking
Although the customers are happy with the support these shoes offer for hiking, it can be quite uncomfortable to walk when you have pebbles, debris, rocks, and sand stuck inside your shoes.
Alternatives
Now that we all know about the numerous perks and cons of Merrell Men's all-out Blaze Sieve water shoe, I can expect you not to find a few bits and pieces that didn't meet your requirement. If this is the case, it's never a bad idea to look into more options and choose the best among them for that ever-lasting satisfaction.
Material - Upper: Leather (synthetic)
Alibress Quick Drying Water Shoes for Women Quick-Dry Ladies Aqua Shoes for Water
Water Shoes for Womens Mens Barefoot Quick-Dry Aqua Socks
Did you know you can actually increase your energy by wearing the right shoe? Yes, with Zhuanglin Women's Quick Drying Aqua Water Shoes Casual Walking Shoes, you can.
It features an especially lightweight midsole and comes with a bounce-back quality to absorb shock and reflect to improve your all performance. The breathable high-quality shoe material is also ideal to have in your water shoe to create a cooler and healthier shoe environment.
If you are someone who likes to wear one pair of shoes almost every day regardless of the activity, this one is just the right one for you. The high aesthetics and comfort of these incredible shoes allow you to flaunt them underwater as well as on the streets of your chosen city.
The breathable and lightweight upper mesh can be used to allow cross-ventilation and quick-drying that keeps your feet smooth and dry at all times.
One of the best features that sets Alibress apart from the rest is the adjustable elastic shoelaces that allow you to have full control over the shoe's tightness and get rid of the hassle of keeping up with dangling laces that always seem to find their way to annoy you.
Now, with their new upgraded design sole, you can rest assured to get the faster flow of water and have the ever-needed anti-slip resistance to cut.
Unlike Merrel, these unisex water shoes with barefoot quick-dry aqua sock are all you need to kick start an enjoyable water journey. The durable sole and seven holes on the bottom of the shoe provide proper water flow out of the shoe to keep you super-comfortable throughout the activity.
The thick arch-support insert inside is excellent to protect your feet against stepping on rocks and tone. This footwear's versatile features have been used to give outstanding performance in swimming, paddling, shopping, water aerobics, walking, canyoning, and whatnot.
Merrell Men's All Out Blaze Sieve Water Shoe Buyers Guide: Things to Consider Before Buying a Water Shoe
Water shoes are made to provide traction while you're swimming, waddling, and paddling. However, if you aren't sure about what makes an ideal water shoe, it wouldn't be much of a surprise to see you struggling to go through the day and regretting each penny spent on your water shoes.
To understand the right balance between what's right or wrong, here's a complete buyer's guide to making a bang for your buck.
Side note: I'd highly recommend you to create a checklist of the points mentioned below to help you compare with the shoe you're looking for.
1. Price
Luckily water shoes are relatively more affordable than most of the shoe types out there. To make sure you have to make maximum use of your bucks spent, compare and contrast different shoe brands and pay rigorous attention to each shoe's specifications to really understand whether the price is reasonable.
2. Traction
The surface doesn't necessarily have to be slippery to lead you to slip over it. If you are wrong, that doesn't provide adequate traction can turn any safe surface into an unsafe one.
Many water shoes come with rubber outsoles that provide extra traction to ensure you are always confident while walking on beach or hiking trails.
3. Insoles
Water shoes are never supposed to be waterproof. Instead, they feature inner and outer soles with holes that can help eliminate water as soon as you come out of it.
Although the insoles for water soles aren't as flexible as other shoes, they provide excellent breathability and cushioning to keep your feet dry and comfy at all times.
However, this problem can be solved using fixed insoles that may slow down the drying time but are more durable to bear with the intense wear and tear of water activities.
4. Size
The snug fit feature of a shoe makes sure your shoe doesn't fall off while moving around in the activities. Remember, your shoe must be tight enough to keep all the sand and pebbles away from getting inside your shoes but shouldn't be too tight to cause blisters.
Many manufacturers of shoe brands usually follow standard sizing. Still, considering the heavy load of complaints about sizes, you always recommend checking out the size charts of that specific shoe.
Benefits of Merrell Men's All Out Blaze Sieve Water Shoe
1.Prevents injuries
Having a good water shoe means having enough protection to not only prevent you from falling or slipping on your best days, but the right cushioning and arch support can also make sure to stay kind with your joints as well.
On top of that, the mesh material and excellent breathability will also keep you away from being exhausted during the journey.
2. Insulation
When you are swimming, rafting, or diving in winters, it is inevitable to get your feet cold, which, as a result, can jeopardize your safety. This is because poor blood circulation and too much cold can cause your muscles to cramp and leave you feeling drained by the end of the day.
Water shoes have the potential to keep your feet warm even in the depths of cold water.
What Others Are Saying About Merrell Men's All Out Blaze Sieve Water Shoe
According to expertworldtravel.com, the open heel strap on the shoe helps you slip your feet on and off with ease. However, as mentioned earlier, it can be hard to get the tiny stones out of the drainage holes, which can be quite annoying during the day.
Conclusion
The Merrell All Out Blaze Sieve water sandals get high marks on everything you need, from excellent comfort, durability to performance.
Where flip flops can end up piled away on the beach, these water shoes ensure to make each second of your adrenaline-filled water activities more enjoyable.