Water Aerobics History 
Believe it or not, but the first time water aerobics was introduced to the U.S. it was the famous Jack LaLanne who did so. In the early 1950s, Mr. LaLanne's TV show demonstrated the benefits of aqua exercise.
Following his example, in the 1970s and 1980s, water aerobics picked up a vast following. Physicians began to notice their patient's physical and mental health improvements.
Thus, water aerobics was included as part of the rehabilitation exercise for athletes who were recovering from sprains and injuries. Water aerobics was also included as a recovery system from surgery for senior citizens.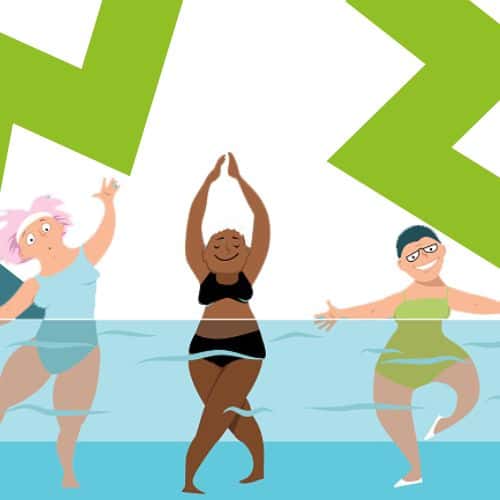 Dive Into Better Health 
Any type of water exercise or water aerobics is an excellent health benefit for seniors. Water aerobics for seniors increases the body's metabolism.
Additional water exercise benefits include better cardiovascular strength. It strengthens physical activities and helps to keep healthy muscle mass levels.
Physicians tout that water-inspired exercises for seniors increase their leg strength, flexibility, lower body strength, and lessens body fat. Further, water aerobics improves mental and social health, as well as increasing a senior's reactionary time.
Physical activity for seniors is always good for the heart, muscles, lungs, and more. On a hard surface or with certain gym equipment, exercise can be hard on the joints and bones.
Senior Water Aerobics Results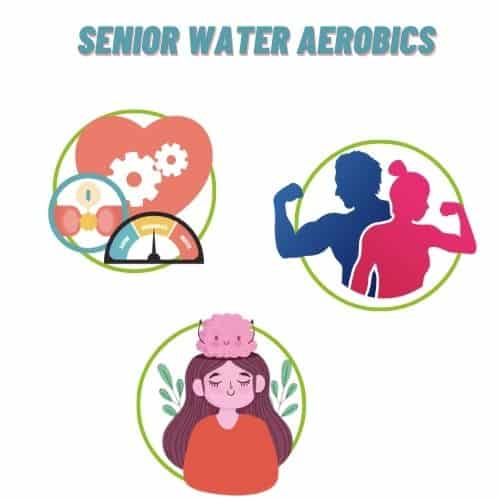 Seniors must partake in exercises that are safe and gives proven results. This is why water aerobics for seniors is an approved way of exercising.
Let's look at positive results that aged individuals receive from exercising in the water:
Improves flexi

bility within the muscles and joints

Improves the operation of the heart and lung

Improves social interactions

Improves confidence with a sense of accomplishment

Improves overall strength due to the slight resistance that water provides

Improves balance st

amina which helps to lessen fall injuries

Improves the body's blood and oxygen circulatory system

Improves health conditions like arthritis, osteoporosis conditions and more
Age Is Just A Number 
Senior aged groups are living longer and many are very active. There are aged 70 and 80 year old senior citizens who are weight lifters and bodybuilders. In interviewing their lifestyle, they admit that part of their regiment involves water-resistant training.  
Best Shoes For Water Aerobic For Seniors
Image
Product
Features
Price

MINIMALIST BAREFOOT FEEL: Wide toe design makes for barefoot feel but still easy on experience. Zero heel lift and low-profile ultra-grip outsole provides maximum traction for walking or hiking anywhere from the river to the beach
EASY ON: Adjustable shocklace system allows for an easy slip on entry while maintaining a snug fit
DESIGNED FOR WATER: Flexible, breathable and lightweight water shoe makes it perfect for kayaking, stand-up paddle boarding, fishing, swimming, or any other activity in or near water
QUICK DRY WITH DRAINAGE: Made with quick dry materials and Integrated Drainage System to allow water and air to move freely making these toe shoes ideal for any water activity
IDEAL FOR ANY ACTIVITY: Perfect for beach, swimming, surf, pool, sailing, boating, kayaking, windsurfing, beach volleyball, long airline flight, yoga, performing pilates exercises aerobics etc. The shoe is necessary equipment for vacations.

Check Price

Dreamcity Men's Water Shoes Athletic Sport Lightweight Walking Shoes

Breathable and durable air mesh upper allow the foot to breathe
Solyte midsole provides an exceptionally lightweight midsole with excellent bounce-back and durability
Water Grip outsole provides exceptional traction in wet and slippery conditions
ComforDry sockliner provides the optimum cushioning performance that creates a cooler, drier and healthier shoe environment.
Open mesh on the upper and hole on the sole provides for superior breathability and quick drying

Check Price

SIMARI Unisex Water Sports Shoes Barefoot Slip-on Indoor Outdoor Sports

COMFORTABLE: Upper fabric is smooth and elastic that made of a diving material with breathable and quick-dry ability. Like socks, it makes you feel great soft snugly in wearing.
PROTECTIVE: The sole's texture design inspiration is from mango, and it's made of TPR materials with excellent non-slip ability that help you keep balance in slippery place and it also can protect your feet from hot beach, grit on land or in water.
PORTABILITY: SIMARI water shoes is lightweight and compressible, really convenient to carry when you go out. Smooth shoes neckline designed would take care of your ankles and easily to wear or take off.
VARIOUS STYLE AND SIZE: SIMARI water shoes is a variety of styles like multiple prints and colorful, the style design also keep updating in latest fashion. Our water shoes have various size suited for big kids, Mens or Womens, the product description has a size chart as reference.
Occasions: Perfect for beach games, swimming, surfing, pool, sailing, water park, boating, kayaking, beach volleyball, fishing, walking, car-washing, vacation,Pilates and yoga etc. Especially for family outings!

Check Price

Breathable and durable air mesh upper allow the foot to breathe
Solyte midsole provides an exceptionally lightweight midsole with excellent bounce-back and durability
Water Drain outsole provides exceptional traction in wet and slippery conditions
ComforDry sockliner provides the optimum cushioning performance that creates a cooler, drier and healthier shoe environment.
Open mesh on the upper and hole on the sole provides for superior breathability and quick drying

Check Price
Everyone Over 55 In The Water! 
It is highly recommended that any type of exercise involving a senior is best approved by a physician. Locations that teach water aerobics for seniors are instructed by professionals. Professional instructors lead seniors into the following exercises:
Aqua Jogging
Jogging in the water is a popular aerobic exercise. It is considered a low-impact exercise that works the heart and blood system. Seniors are often instructed to walk as fast as possible or to jog from one side of the pool to the other side.
Kick Those Leg
s
Seniors are asked to kick against the water. Seniors are asked to lie face-down on the water or lie on your back and flutter kick. Another kicking water exercise that is more popular is to hold onto the side of the pool and kick your legs. This exercise is performed just to get the heart and blood pumping in very short steady tempos.
Leg Lifts the Rockettes Would Be Jealous Of
Seniors are instructed to lift one leg at a time. You lift up, out to the side, and then down. The more seniors perform this exercise, the better their balance will become. Also, the body core will become stronger and flexible.
Curl Those Arms
Light water weights are provided to each senior. They are asked to perform certain curling activities that provide extra resistance to the body. The results of arm curling include an improved balance, increased heart rate, and strength in the shoulders and upper back.
Swim For Your life
There is no other form of aqua exercise that is better than swimming. Just ask former Olympic swimmer Mark Spitz. He is still swimming at age 70. Performing several pool laps provides a strong cardiovascular workout. Your muscles become stronger and more defined. You burn loads of calories and improves lung function for breathing healthier.
Wade In The Water
Water walking strides improves the whole body for seniors. With water waist-high, seniors are instructed to march in place. Arms and legs are also moving.
This water aerobics-style builds up the core strength for seniors. As you can see people of all ages would benefit from walking in the water.
It has been researched that for senior citizens, exercising in a water environment burns up to over 3 times more calories.
You Can't Forget Your First Water Experience 
Speaking of diseases and illnesses that stem mainly from aging. Did you know that water aerobics is an excellent form of exercise for dementia patients?
Dementia research and other neurological diseases benefit patients greatly because of water exercises stimulate the brain.
Water aerobics for seniors who have developed Dementia are helped with their motor skills, muscle/joint functions, range of motion, better sleeping habits, improves their appetite and improves their stress levels.
Dementia patients can take part in some of the same water aerobics that all ages can perform. The more popular water treatment include swimming, leg swings, arm curls, and just relaxing in a water environment for an hour.
The World of Water Aerobics 
Many seniors who have performed minimum water aerobics have reported positive results to their physicians. Seniors, who unfortunately experience joint pains have witnessed a nearly pain-free workout while in the water.
Water aerobics is an exercise medium for aged adults who are seeking improved overall health for better functionality. Encouraging water aerobics for seniors helps their bodies strengthen over time.
Plus, the buoyancy of the water lessens the pressure on the joints. They can stand and walk with a stronger gait and stance without becoming breathless.
How's The Water? 
Water aerobics introduces the senior body to hydro-static pressure. This is the science of water that is at rest vs. water when disturbed. Research by the Arthritis Foundation and the science community talks about water massaging the body.
In addition, the Arthritis Foundation has developed a specific water temperature for seniors to exercise in. They suggest that gymnasium pools, home indoor pools, and other water locations, keep the water temperature between 82 degrees and 88 degrees for aquatic aerobics.
The Arthritis Foundation water exercise plan is to lessen body tiredness, lessen joint pain and stiffness.
Additional water aerobics requirements for seniors should include shoulder level water. Exercise equipment in a water environment should also involve flotation vests, kick-boards, flotation belts, noodle bars, and paddles.
Also Read: