It's listed as one of the most popular recreational sports in the United States, with over 90 million people taking to the beach, river, lake, and pool every year.
But did you know that swimming has many physical and mental benefits beyond recreation? Swimming can help improve your health, fitness, and overall wellness. But does swimming burn fat?
The answer is a resounding yes!
Swimming is one of the best activities to increase your heart rate, tone your body and improve your overall fitness. In fact, swimming is a cardiovascular exercise that burns calories, and 3500 total calories burned is equal to 1 pound of body fat lost.
And here is how it's done.
Does Swimming Burn Fat?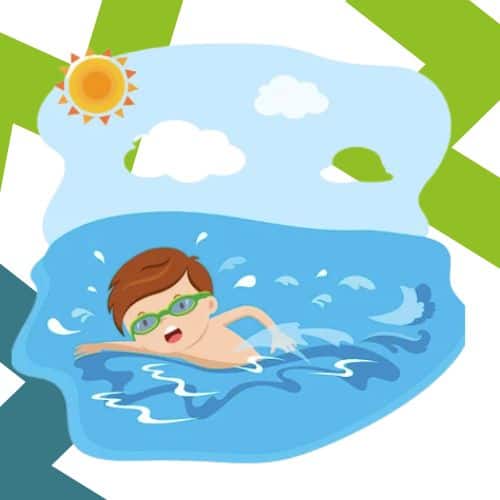 According to research, Americans and almost every other country around the globe love water. Its transformative impact helps reduce stress and increase activity. As a cardiovascular exercise, these benefits are increased exponentially by adding in improved physical health.
Swimming works with every major muscle group in the body. It tones the shoulders, back, arms, legs, glutes, and abs. Added resistance such as hand or ankle weights can be used to help you continue with muscle development and toning as you become more adept in the water.
There are a variety of classes geared to swimming and water-based fitness, focusing on different age groups and intensity levels. Swim yoga and boot camp, step aerobics, water aerobics and dance-based aerobics, aqua strength, and many others are available.
There are a variety of options providing something for almost everyone.
If classes aren't for you, fitness facilities and local swimming pools offer fitness swim times tailored for those who want to swim laps, or the length of the pool, for a set amount of time.
Other options for fitness include 'swim in place" pools and natural swimming holes and locations, allowing for greater freedom.
Because swimming is such a universally accepted form of cardiovascular exercise, it is also a way to burn body fat, including unsightly belly fat.
Any cardio activity helps burn calories. When trying to shed body fat, burning calories, and activities that increase muscle tone hold the magic formula.
Swimming provides both an optional way to burn calories and increase muscle tone, therefore burning fat!
Along with a healthy nutritional lifestyle, it is probably one of the best ways to become fit.
Benefits of Swimming 
1. Health Benefits
It is no secret that water is an element of pure healing. It is used symbolically throughout history and into the present day as a medium for transformation, healing, and birth.
This metaphysical aspect is no different when it comes to the fitness realm. Swimmers, when compared to non-swimmers who run and perform another cardiovascular exercise, suffer a much lower instance of sudden mortality.
In fact, the risk is decreased by 50% when compared to non-swimmers. It reduces emotional and physical stress on the body while allowing for improved heart health, which is a key to wellness and longevity.
Water fitness is also an important modality of exercise for populations who suffer from chronic pain such as scoliosis, fibromyalgia, and osteoarthritis. It encourages a full range of motion in a weightless environment, allowing a sense of absolute gravity-free movement.
Obese individuals benefit greatly from the 80/20 rule, which is 80% of the body weight cannot be felt while submerged in the water, providing joint relief and improved movement.
Because of its buoyancy, water activities invite other populations such as pregnant women or individuals rehabbing from surgery or injury, as an effective and safe way to stay in peak condition during a specific time period.
Water activities are highly correlated to improved mental health, as the calming and supportive impact of the water has been used for ages to heal.
From the calming component of the color blue all the way to its ability to induce a meditative state of mind, the water slows down the active brain and brings us back to the most transforming and powerful of the elements.
This sedative impact helps lower blood pressure, reduce anxiety and heal from depression, monkey mind, and other mental issues so common in today's society. From its purest level, water is one of the best tools for mind, body, and spirit.
2. Swimming Benefits for Kids
Swimming is one of the most fun and interactive ways to help children develop strength and endurance.
Instead of focusing on the systems in place, such as physical education classes in the school systems or highly popularized impact sports, swimming encourages family fun and physical activity for children from the time they are babies throughout their lifespan.
You don't often hear about people playing a sport at 6-months of age up through their 80s or 90s, except with swimming.
Because it is fun and engaging, swimming is the perfect activity to keep kids in peak cardiovascular health. It helps develop lung capacity and conditions the heart functions.
It develops total body movement and muscle strength. It even allows for the development of many skills required later in life such as agility, power, speed, endurance, and accuracy.
Other benefits for kids include safety due to learning to be safe around water as well as introducing competitive sports that have a low risk of physical injury compared to contact team sports such as football, softball, and soccer. It's a perfect on-ramp activity for kids.
3. Swimming Benefits for Older Adults
Although still fun and interactive, swimming hosts many benefits for older individuals that help keep them active well into the older years.
This activity encourages movement, which in turn, improves their quality of life. Because it can be socially engaging, it also helps keep older individuals emotionally and spiritually connected to people on a regular basis.
From a physical standpoint, water offers significant joint support, which is often one of the reasons older adults are known for stopping beneficial movement and activities. In the water, they become virtually weightless, allowing them to walk, kick and pedal in ways they could not do in a dry environment.
Movement helps decrease disability, which in and of itself, is linked to poor quality of life and early death. Swimming is a highly effective way to incorporate improved bone health for both menopausal and post-menopausal women.
Because of its anti-gravity effects, it allows for movements and activities that support bone and joint health instead of wear and tear activities such as running and even walking.
Because menopause is also linked to osteoporosis, finding methods such as swimming that support bone health can be a key link in keeping women moving safely and securely throughout their lifespan.
4. Swimming to Lose Weight and Tone Up
Aside from the social, developmental, and mental aspects, swimming is an excellent way to lose weight and tone up for nearly everyone.
Regular movement burns calories, supporting weight loss.
In fact with the appropriate nutrition plan and consistent activity most days a week at a moderate level of intensity, weight loss is more likely to occur.
Swimming not only burns calories but also provides resistance which in turn, tones the muscles. Increased muscle tone and development actually increases the metabolism, which in turn increases calories burned.
As we age or get into a sedentary lifestyle, our metabolisms decline, and our ability to burn additional calories affiliated with weight loss decrease.
Swimming allows for activity without the negative impacts of other types of exercise and increases our metabolisms improving weight loss.
It also helps with our EPOC, or excess-post exercise oxygen consumption, or what I like to call the "afterburn" effect.
This is your body's response to metabolic movement, cardio, and resistance in one, enabling the metabolism to burn more calories than when the body is at rest.
All in all, swimming is one of the best and universally effective exercises.
Swimming​ Workouts
Convinced that swimming might be your new workout but you aren't sure where to begin? Let's start with different swimming workouts and the general benefit.
Swimming burns calories at a rate of approximately 400-700 on average in an hour, depending upon your body weight and the intensity level.
Classes such as water yoga may boast fewer calories burned while lap swimming at intense levels could take those numbers even higher. It's all about intensity.
Best Shoes For Water Aerobics
Image
Product
Features
Price

BREATHABLE FABRIC: Upper is made of mesh material with elastic, like socks that snug your skin softly that keep breathable and quick-dry experience.
PROTECTIVE SOLE: The soles is made of rubber materials with bump texture design that easily keep balance in slippery place and protect your feet from hot beach, grit on land or in water.
CONVENIENT WEARING: The elastic-shoelace with locking mechanisms can quickly adjust the loose, and elastic shoes neckline allows you easily to put on and take off.
DRAINAGE DESIGN: Each sole has 8 holes to ensure well in drainage that keep feet-feeling cool even in water.
OCCASIONS: SIMARI water shoes perfectly suit for beach or water games like swimming, kite surfing, pool, sailing, kayaking, beach volleyball etc. Especially for family outings!

Check Price

Updated speedo water shoe
Stretch upper allows for pull-on entry and secure fit
S-trac outsole offers no-slip grip
Maximum breathability;Shoe Weight: 10.0 oz
Quick-drying materials

Check Price

Breathable and durable air mesh upper allow the foot to breathe
Solyte midsole provides an exceptionally lightweight midsole with excellent bounce-back and durability
Water drain outsole provides exceptional traction in wet and slippery conditions
ComforDry sockliner provides the optimum cushioning performance that creates a cooler, drier and healthier shoe environment.
Open mesh on the upper and hole on the sole provides for superior breathability and quick drying

Check Price
Beginners
The best place to start is with a simple water class geared towards the beginner fitness level.
These classes are often more gentle, yet challenging and provide full instruction geared towards the beginner fitness practitioner or those new to water fitness.
If water classes aren't your thing, just familiarizing yourself with how you feel in a pool, and experimenting with swimming back and forth for a set amount of time will help you understand how your body responds to the water.
If you aren't a swimmer, there are many locations offering basic swim lessons that can help launch your new passion into full actualization.
No matter where you start, take it slow and enjoy the water's total benefits package.
Intermediate / Advanced
For individuals who are familiar with water activities or who are already in good physical condition, you may want to try water classes geared towards your level, although beginner's classes are nothing to dismiss in terms of a workout.
There are a variety of choices available at area fitness centers and swim centers.
Best Aquatic Excercise Dumbells
Image
Product
Features
Price

Made from EVA foam, providing buoyancy and low water absorption
Each barbell measures 11" long x 6" wide and weighs .66lbs.
Work your upper body as well as your lower back and abs for a total fitness workout
Warning: Not to be used as a flotation device. For ages 14+
By Trademark Innovations

Check Price

Weights Dumbbells Set Water Exercise Equipment Water Aquatic Dumbbell

The Exercise Foam Dumbbell is suitable for swimming pools, spas, fitness exercises, etc., suitable for adults, women, children and beginners
This Weights Dumbbells Set is a perfect complement to aerobic exercise in water. It is made of EVA foam, has low water absorption and is easy to use
The Aquatic Dumbbells is made of high quality EVA foam, which is very lightweight and waterproof. They can provide floating support and enhance the strength of the upper body at the same time
This Water Aerobics Equipment is good for the cardiovascular system, and water aerobics is also a strength training program because of the natural resistance provided by water
Our Water Dumbbells can provide strong resistance for your movement in the water to help you to shape your figure

Check Price

Provides floatation support while building upper body strength
Soft padded grips for extended workouts
Lightweight chlorine-resistant EVA foam
Use both barbells for maximum resistance during aquatic fitness activities
45 pounds of resistance

Check Price
Water Aerobics
A more traditional type of cardiovascular training class that revs up your heart rate without the impact on your joints. This is the best foundation for anyone looking to try out or focus on cardiovascular health and total body muscle toning.
Aqua Boot Camp
Uses intensity and resistance to improve your endurance through circuits, intervals, underwater plyometrics (jumping), and high to low cardio bursts. This is an excellent workout for almost any participant, but best for those familiar with the water and looking for a total body experience.
Aqua Zumba R
A combination of aqua-aerobics benefits in a fun atmosphere full of rhythm and dance. It is touted as the ultimate "pool party". This is an excellent way to incorporate both fun and dance into a swimming workout.
Lap Swimming/Freestyle
Many public and private pools offer specific swim times for adult-only fitness swimming. This is when you can utilize your own creativity and research, doing interval laps, paddleboard, experimenting with different swim techniques.
Or even register for advanced conditioning swim classes with an instructor/coach. Lap swimming and freestyle classes can be disappointing for those who get bored easily or who prefer a variety of modalities and music to motivate them.
This is best for those individuals who prefer solo workouts, are highly focused on their fitness or competitive training.
Weight Loss/Fat Loss
For those looking to lose weight and burn fat, classes and workouts that focus on moderate to high intensity are probably the best option.
Especially if you are swimming consistently on most days of the week or combining swimming with other similar intensities in your workout activities.
Lap swim can be ideal for weight loss, but it has a high potential to become boring for those who prefer a more supportive or engaging and social workout.
Remember, any activity that is performed consistently and regularly at a moderately intense or greater pace, burning optimal calories and increases metabolic efficiency is best for weight loss.
Combined with a sensible nutrition plan that focuses on a reduction in caloric intake and nutrient-dense foods can launch weight loss benefits even further!
Frequently Asked Question (FAQS)
IS SWIMMING A GOOD WAY TO LOSE WEIGHT?
Yes. When performed regularly and consistently, any cardiovascular exercise including swimming can help with weight loss.
Swimming allows those with limitations, pain, and joint issues to safely maximize their activity, therefore helping them lose weight as well.
HOW LONG DOES IT TAKE TO LOSE WEIGHT BY SWIMMING?
This depends upon your level of consistency and intensity. Those who swim at a moderate to vigorous pace at least 5 days a week for approximately 30-45 minutes will burn more calories.
This in turn will help you lose more weight faster. However, there are benefits to any activity over a sedentary lifestyle.
DOES SWIMMING TONE YOUR STOMACH?
Swimming regularly and at the right intensity for you burns fat and tones muscles. With a consistent schedule, you will burn body fat, including belly fat.
HOW MANY TIMES A WEEK SHOULD I SWIM?
The amount of times a week you can swim is unlimited. Remember, that for cardiovascular benefits, you will want to perform at minimum around 30 minutes of physical activity at a moderate pace for 3-4 days a week; more if you want to increase fat burn.
HOW MUCH WEIGHT CAN I LOSE SWIMMING 5 DAYS A WEEK?
With a good nutrition plan cutting back approximately 300-500 calories each day from a healthy calorie count in combination with a 5-day per week swimming schedule.
1 hour each day at a moderate to an intense level of swimming, burning up to 700 calories a workout, you have the potential to shed up to 2 pounds every week in body fat, or 8 pounds in just a month of this schedule.
Conclusion
Swimming is one of the top ways to incorporate fun activity into fitness.
It is appropriate for all ages and physical conditions, making it an excellent choice for families and social interaction.
It helps conditions all major muscle groups in the body and develops skills that are essential to functionality throughout life.