While step platforms can help to keep yourself in shape, this simple platform can cost some whopping bucks. The good news is you can create an aerobic stepper alternative within your budget!
An exercise or aerobic stepper is a simple plank that is used as cardio workout equipment. Generally, this stable platform is covered with non-slip and study material that helps you carry out extensive workouts by making sure you're safe at all times.
Nowadays, you can DIY anything you want to have complete control over your aerobics stepper's kind of material, weight, price, and height.
Also Read: Aerobic Step Platforms: 12 Best Aerobic Stepper For Home Use!
Not sure how to get started?
Here's everything you need to create a full-fledged aerobics stepper.
Best Aerobic Exercise Workout Step Platform
Image
Product
Features
Price

The Step (Made in USA) Original Circuit Size Aerobic Platform

Made in the United States from durable, recyclable high-density polyethylene
Circuit-size (28. 5" L x 14. 5" W x 4" H) aerobic platform, 4 original risers, and streaming videos
Platform features grooved, nonslip top and supports up to 275 lbs
Four nonskid feet on each riser and platform prevents sliding or scratching floors
Vary workout difficulty by adjusting platform height from 4" to 6" to 8" using risers

Check Price On Amazon

Made in the United States from durable, recyclable high-density polyethylene
Circuit size (28.5" L x 14.5" W x 4" H) aerobic platform, 2 freestyle risers, and streaming videos
Platform features grooved, nonslip top and supports up to 275 lbs
Nonskid feet on each riser and platform prevents sliding or scratching floors
Intensify and diversify your workout using freestyle risers in a variety of slated positions

Check Price On Amazon
Step Platform Alternative
You can use an aerobics stepper to trigger low body fat and shed the underlying layers of fat to give you the ever-needed slimmer look. However, people who can't get their hands on the step platform can always find excellent alternatives that perform the same functions to reach their fitness goals.
Although many prefer to go the effortless way and use actual stairs, stool, or sofa as an alternative for step platform, you can also create a cheaper, more robust, and permanent fix that can last you forever.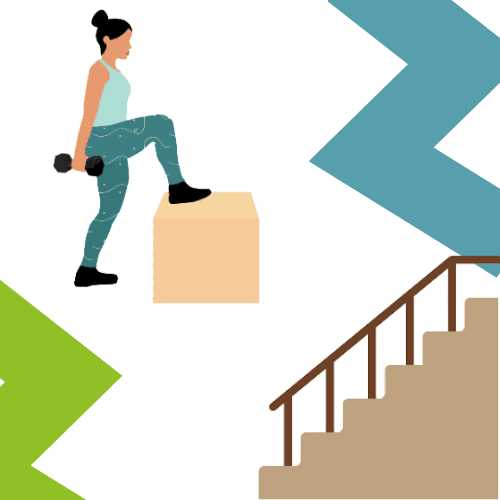 DIY Exercise Step Box
This DIY platform will also allow you to not only carry out the basic stepper exercises but also allows complimentary workouts like low floor push-ups and dips.
It's usually six inches off the ground, which gives it a low-impact exercise feature to improve your flexibility without wearing out your joints.
Thanks to its outstanding size and grip, this stepper makes sure you don't bend your knees for more than 90 degrees and not strain your spine whatsoever.
What's more, you can also increase the workout's intensity by incorporating ankle weight and jump ropes or kettlebells and dumbbells to work out the upper body.
Homemade Stair Stepper
To make a homemade stair stepper, you can either use a saw to cut the wood according to the correct sizes or buy the already cut wood in the desired dimensions.
Don't get intimidated by the number of steps needed to make the stepper; I've only broken down significant concepts into smaller steps to help you grasp the idea better.
Wood Size Requirements
1 wooden two-by-four (66 inches long)
1 wooden two-by-six (36 inches long)
16 exterior screws (¼-inch wide and 2 ½ inches long)
Non-slip shelf liner (20 inches wide and 54 inches long
Later, hit your local supplies store and make a checklist to get the following items.
Supplies:
Staple gun
Power drill
Marker
Measuring tape
Scissors
Staples
Hand or Bow saw
Drill bit, ¼ inch wide
Procedure:
The first step is all about getting the right size of your wood. Start by cutting the wooden boards. Take your measuring tape and mark appropriate lines to divide the 2 x 4 wood into 3 equal 22 inches log sections.
Later, grab the 2 x 6 wooden plank and mark 4 equal sections. Each of them needs to be 9 inches long.
Once you're done with the initial marketing, go ahead and cut the appropriate lines so you will end up with 3 pieces of 2 x 4 wooden pieces of 22 inches in length, 4 pieces of 2 x 6 of 9 inches in length.
Legs:
Now that you're all set with your wooden pieces start arranging each of them in their respective uses. The 2 x 6 pieces are meant to be the legs of the stepper. Stack 2 of them, mark the areas attached and use 2 exterior screws to join them together.
Never add two screws together in the exact wood grain line. This runs the risk of wood splitting. Instead, try screwing 2 inches apart from any opposing corners in a diagonal line.
Later, you can screw the rest of the two 2 x 6 wooden pieces to make the platform's remaining legs.
Voila! The legs are ready.
Platform:
All you have to do is center one end of the 2 x 4 pieces perpendicularly over the same end of the 2 by 6 legs to add the legs to the platform. In the end, this would end up looking like an uppercase T.
Now, mark two holes to screw in the 2 x 4 platform above the overlapping area.
Screw the areas marked.
Repeat steps 1 to 4 to attach the platform to the legs.
Your pieces should look like a bridge connecting two leg pieces on their opposite ends.
Add two more legs to your one-lane bridge. Add the remaining 2 x 4s on either side of the first and parallel to it.
Mark and drill all the holes to fasten the loose 2 x 4s to the legs. To end the stepper structure, make sure all the screws in the skeleton are placed diagonally.
Cover:
It's time you finish off the final stepper and add the non-slip shelf liner on the ground or flat surface.
Turn the skeleton of the stepper (that you just created) upside down onto the shelf liner.
Remember, there should be plenty of self liner sticking out of the frame.
Now, take one end of the shelf liner's surplus material and wrap it over the side of the stepper, across the bottom of one leg, and then over the inside of the leg一making e right angles.
You can use the staple gun to fixate the liner with the inside of the leg.
Repeat these steps until you have all the sides of the stepper covered and ready to be used
You can also improvise and develop your own methods or techniques to make this process highly customizable.
How to Build an Exercise Step Box
If you find it hard to construct a stair stepper, I have a more accessible alternative for you. This exercise step box only takes an old wine box and little effort to make a robust and comfortable aerobic stepper that you need to start your fitness journey right away!
What You Will Need:
Empty Wine Boxes x4
Drawer Liner
Glue
Piece of cardboard
Duct Tape
Utility Knife
Procedure:
Tear up the sides and pull open the entire wine box. You can remove the plastic and discard the plastic wine bag from all the boxes.
Cut the single cardboard pieces with the same width as the wine box and draw a line in the middle of the cut-out cardboard with half of its width.
Now, cut the lines you drew on the cardboard to turn it into 2 cardboard pieces.
This can be joined together to make big X-shaped cardboard.
Now fold the 2 pieces of cardboard and insert them into the box opening, and spread out.
Make sure to add glue while inserting the cardboard into place since it will prevent the moving pieces of cardboard from staying in business.
Later, you will cover the openings of all the boxes with duct tape to secure your stepper box.
Then take 2 wine boxes and tightly wrap attached them with 5 to 6 rounds of tape. In fact, the more duct tape you use, the more robust your platform would be.
Once you are done with this taping part, double up 4 or 5 box length pieces of tape and attach them to the bottom of the step and the drawer liner. This is needed to add a non-slip effect to your aerobic stepper.
And yes, your platform is completely ready! It's robust, durable, and provides the ever-needed grip to help you workout without breaking your bank. Reportedly, it can easily take up 214 pounds of the user.
Also Read: Importance Of Arch Support In Aerobic Exercise Shoes
Benefits of Using an Aerobic Step
Now that you have your aerobics stepper ready, you can expect to gain three of the countless benefits of using an aerobic step as workout equipment.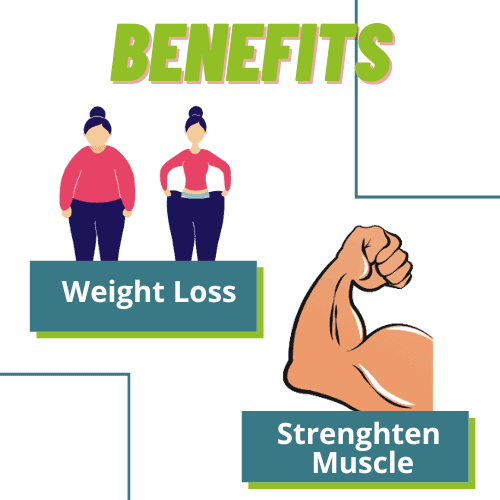 1. Musculoskeletal Health
Aerobic steppers tend to increase bone density, which can eliminate further health issues associated with bones. This is because while working out on the platform, you make use of your lower bones the most, which, in turn, can strengthen and improve the density of your bones.
2. Low Impact
Low impact exercises refer to the type of workout that gives powerful results without putting so much stress on your body, especially joints.
This workout is highly recommended for people who suffer from knee and joint problems like osteoporosis, weak angles, knees, and plantar fasciitis. High-impact activities like running can only worsen the condition.
3. Effective Weight Loss
Aerobics steppers keep your belly fat and waistline in check by constantly exercising your body to reduce rapid calories. It keeps your blood flowing, positively impacting the metabolic factor to speed up the whole weight loss process.
Other than that, if you manage to burn more calories than you consume, you will likely drain out your body's excess fat.
Why Do People Recommend An Aerobic Step?
One of the main reasons aerobics stepper stands out against the rest is its high ability to yield powerful results while staying versatile and budget-friendly. From essential step and down to add-on strength training, people have complete control over losing their body weight with an aerobic platform.
Unlike many other cardio workout machines, people often find a stepper easier and less intense to motivate them to work out every day.
What Does the Research Say?
According to research done by Physical Therapy Science, working out on a stepper has the potential to improve flexibility, balance. It gains muscle strength for the lower limb part of your legs. Other than that, it can also enhance the state of patients who suffer from hip and knee joint problems to a great extent.
Recommendations
Increase the stepper's intensity by adding more layers to the stepper if you want to gain rapid results. Ideally, beginners should begin with 4-inch steps, while experienced steppers can take up to 10-inch measures. However, 8-inch is the ideal height.
common Step Platform Alternative Questions
What can I use instead of a step?
Instead of a traditional aerobic step, you can use sturdy items like a low, flat bench, a large book, or even a firm, wide piece of wood. Ensure whatever you choose is stable and safe to prevent injuries.
How to do step aerobics without a step?
Even without a step, you can still enjoy a good workout. Try exercises such as lunges, squats, high knees, or jumping jacks which mimic the movements and benefits of step aerobics.
What can I use at home for step aerobics?
For home-based step aerobics, use household items like a sturdy stool, a low table, or a bottom stair step. Ensure the item can support your weight and is slip-resistant for safety.
Does anyone still do step aerobics?
Yes, many people still practice step aerobics. Its popularity may fluctuate, but it remains a highly effective cardiovascular workout that also enhances agility, coordination, and lower body strength.
Your turn..
All in all, now that you're a pro in making your own aerobic stepper, I would suggest you compile a checklist or take a screenshot of the methods and tools to buy so you can make sure you carry out the whole procedure efficiently.
Your comments are my fuel, let me hear from you. What's your personal experiences, etc…