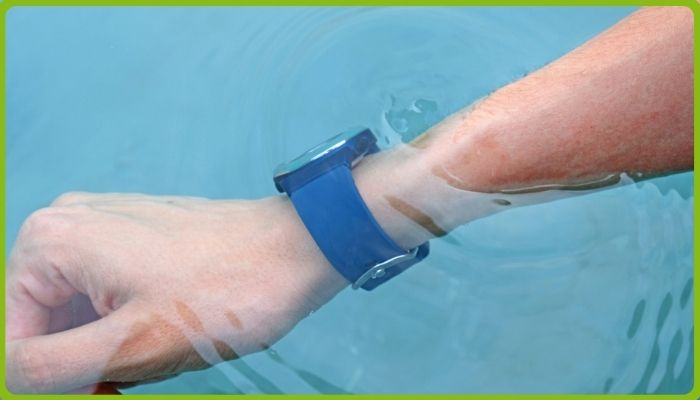 This is a review of the best Waterproof Smartwatches for Swimming and Water Aerobics.
The wearable landscape is in constant change. New devices and brands are released every year such as the Apple Watch Series, promising improved measurements and user experience. At the same time, other brands disappear from the consumer market for various reasons.
In a recent study, the Garmin Forerunner was established to be a simple, objective and useful device to be used by physiotherapists, trainers and other sports-related disciplines to assess and improve the swimming performance by targeting the heart rate and VO2 max.
Maximal aerobic capacity (VO2 max) is one of the important factors that influence swimming performance. However, does advances in device quality and technology offer new opportunities for swim tracking? Maybe!
In fact, there've been studies to examine the availability of wrist-based fitness tracking, wearables and analyze availability of relevant fitness sensors for swimming since the early 2000's.
But only a few well-established brands are frequently used in research projects, and even less are thoroughly validated.
As a swimmer or aquatic athlete, you're always on the hunt for the next best waterproof smartwatch. And as a sensible consumer, you want a high quality product that doesn't just get the job done, but exceeds your expectations, all for a good price.
Well, we get it!
Let's find out more!
The Top 5 of the Best waterproof smartwatches for swimming
Best Overall: Apple Watch Series
Runner Up: Garmin Venu
Best Budget: Moov Now 3D Fitness Tracker
Best for Comfort: FitBit Inspire
Best for Women: FitBit Versa 3
Best Waterproof Smartwatches for Swimming
1. Apple Watch Series: Best Overall
2. Garmin Venu: Best Runner Up
3. Fitbit Inspire: Best for Comfort
4. Garmin Vivoactive 3: Best for Versatility
5. Fitbit Versa 2: Best for Music Lovers
6. Samsung Galaxy Watch 3: Best Heart Rate Monitor
7. Garmin Swim 2: Best for Triathlons
8. Moov Now 3D Fitness Tracker: Best for Motivation and Budget
9. Fitbit Versa 3: Best for Women
10. Garmin Vivosmart 4: Best for Anxiety
Waterproof Smartwatches Comparison Table
Top 10 Waterproof Smartwatches Compared
Every smartwatch is different, and so is every smartwatch wearer. That's why we've assembled the ten best waterproof smartwatches for whatever your need may be.
Here, we'll discuss each of our top pool swimming smartwatches in detail, giving you the scoop on what makes them the best and what we wish they did differently. Trust me, you're gonna fall in love with more than just one of these babies!
If you want a smartwatch that blows them all out of the water (see what I did there?), the Apple Watch Series will certainly get that done. This smartwatch has all the fitness tracking features you want in a waterproof smartwatch and then some, all combined into one stylish package.
Perfect for shallow water sports (like swimming, and most pool and open water or activities), the waterproof Apple watch Series 6 or 7 will track your laps, strokes, and your heart rate as you show that water who's boss!
Plus, it's the best choice for safety, as it can track your location, detect falls, measure your heart rate with ECG technology, and even call 911 if it detects a dangerous drop in your heart rate after an injury.
There's not many water resistant watches that can protect you like the Apple Watch Series 6 or 7.
Not to mention, I love its modern, stylish design. Get it in Space Grey, Sleek Silver, or Rose Gold to show off your aesthetic as you swim! A great all rounder.
Pros
Waterproof
Built-in GPS Tracker
Compass Technology
SOS Emergency Signal
Heart Rate Monitor with ECG
Comes in a Variety Stylish Colors
Contactless Payment with Apple Pay
Apple's Clear Viewing Retina Display
Bluetooth Connectivity with Smartphone
Tracks Swimming, Running, and other Sports
Fall Detection with 911 Automatic Call Function
Cons
On the Pricey Side
ECG Only Compatible with Apple Smartphone
Not Made for Diving or Water Skiing Use
If you're looking for a smartwatch with all of those awesome features of the Apple Watch Series 7 but a bit less pricey, the Garmin Venu may be the swim mode tracker for you.
It's water resistant, comes with all the fitness tracking features, and can be used as a regular smartwatch! It even has a built-in coach who will show you how to perform the workout of your choice.
The Garmin Venu has a beautiful touchscreen display, a continuous GPS tracker for safety, and comes in a wide variety of colors and screens designs! Not to mention, this smartwatch can connect to your smartphone, so you can chat, text, and read about current events as you splash around in the swimming pool.
Pros
water resistant
Music Playing Features
Bright Touchscreen Face
Heart Rate Pulse Monitor
Animated Coach and Workouts
Bluetooth Connection to Smartphone
Text, Call, and News Display Features
Awesome Customization and Color Variety
Perfect for Water Sports and Land Activities
Cons
A Bit Pricey
Separate Subscription Needed for Apps
As swimmers ourselves, we know how uncomfortable some fitness trackers can be while swimming. You don't want something that's too clunky or heavy; you want a smartwatch that you'll barely even notice as your arms glide through the water.
Well, if you've got comfort in mind, check out the sleek FitBit Inspire. Not only does it monitor your heart rate, laps, strokes, and burned calories; its elastomer material is lightweight, durable, and flexible for even the most moveable water workouts.
So, feel free to strap this baby on and engage in any activity, from breaststroke to water polo; you can feel safe knowing your FitBit Inspire can take it!
Pros
GPS Track Distance
Tracks Calories Burned
Comes in Three Cool Colors
Waterproof up to 50 Meters
Bluetooth and Smartphone Connectivity
Monitors Your Heart Rate All Day and Night
5 Straight Days of Battery Life Before Recharge
Includes a Small and Large Band for Any Wrist Size
Perfect for Swimming, Running, Jogging, and Biking
Made of Durable Elastomer for Total Freedom in the Pool
Cons
A Bit Pricey
Cannot Be Worn in a Sauna or Hot Tub
We love this smartwatch for those looking to get the most features for the most affordable price. Though there are other smartwatches who beat the Garmin Vivoactive 3 in the price department, there are none that can compete with the features for price versatility.
This Garmin watch is waterproof, so you can feel safe wearing it while you swim, dive, water polo, and synchronize-swim your way to a healthy life!
Plus, its optical heart rate monitoring abilities show up on its bright, glare-proof screen as well as your connected device.
Not to mention, if you ever need to make a quick purchase while at the pool swimming or beach, don't worry about bringing your wallet; the Garmin Vivoactive 3 like many Garmin watches is equipped with contactless payment, so all you have to do is shop, tap, and get back in the water.
Pros
GPS Tracker
Comes in 7 Stylish Colors
Optical Heart Rate Monitor
Affordable for Feature Variety
Most Versatile Tracker for Sports
Bluetooth and Smartphone Connectivity
Contactless Payment for Quick Shopping
Endless Free Customizations in the Connect IQ Store
Cutting Edge Screen Technology for Easy Viewing in Bright Sunlight
Cons
If you need to listen to your favorite tunes to get your arms stroking and your legs kicking, you're not alone. For all you musical swimmers, we think the FitBit Versa 2 is a great option.
Compatible with your favorite music apps, including Spotify and Pandora!
Plus, the FitBit Versa 2 is equipped with Alexa from Amazon so you can access anything with just the sound of your voice! As you're making the most out of your swim mode, the FitBit Versa 2 will keep track of your heart rate, laps, calories, and distance!
Not to mention, you've only got to charge this smartwatch a few hours every week; one charge will last you a whole 6 days while automatic tracking your swim data.
Pros
Waterproof build
Sleek and Durable Material
6 Full Day long Battery Life
Built In Alexa from Amazon
Cool Color Variety – 6 Different Colors
Tracks Heart Rate All Day and All Night
Bluetooth and Smartphone Connectivity
Monitors Calorie Burn, Laps, and Active/Rest Periods
Cons
A Bit Pricey
Separate Subscription to Pandora and Spotify Required
For aquatic outdoor athletes looking for the best smartwatch to track your heart rate, we suggest the Samsung Galaxy Watch 3. Not only does it look like a regular, work-approved watch.
It also tracks your heart rate using ECG (electrocardiogram) technology. This is perfect for those with heart murmurs or arrhythmias, which we know are all too common and overlooked.
The Samsung Galaxy watch 3 is also great for on the move people, equipped with Samsung's personal helper Bixby and contactless payment capabilities.
Not to mention, this waterproof smartwatch has an impressive battery life of up to 6 days, so you can rest easy knowing your electric bill won't go up because of this bad boy.
Pros
ECG Monitoring
6 Day Battery Life
Ultra Customizable
Military Grade Watchface
Smartphone Compatibility
Smartphone Compatibility
Contactless Payment with a Tap
Stylish for the Water and the Workplace
Equipped with Built-In Bixby by Samsung
Cons
On the Pricey Side
ECG Recording Function Only Compatible with Samsung Smartphones
For all those super athletes out there, you're going to want to check out the Garmin Swim 2 smartwatch. Perfect for triathlons, this smartwatch just like the Garmin Vivoactive will not just track your steps and running pace; it will also track your biking speed and your stroke distance in water!
The Garmin Connect Swim 2 even has a built-in GPS function, so you'll feel safe during in open water swimming as well as in the pool! Plus, since it comes with custom online workout plans, you can even engage in your favorite water aerobics workouts!
Pros
Waterproof build
Pace and Drill Features
Comes with Free Analysis
Connectivity to Smartphone
Clear Screen for Easy Reading
Includes Customized Workouts
GPS Tracker for Open Water Swimming
Stroke type detection, Pace, and SWOLF
Cons
Short Battery Life
A Bit Pricey
If you're a swimmer who has difficulty staying motivated, try the Moov Now 3D Fitness Tracker. We absolutely love this one for its digital coaching and fitness tracking features.
We get how hard it can be to dig deep down and find that reason to keep swimming, and having someone there to push you can be a huge help.
Not to mention, for all of the Moov Now 3D's awesome advanced features, it's one of the most affordable options you'll find out there for a swimming watch. It comes in three modern colors, tracks your active swim mode time and your restful hours, and its battery lasts up to 6 months.
As a swimming junky, you're probably happy if something lasts just a few days in the water so a half year is pretty awesome.
Pros
Affordable
Waterproof
6 Month Battery Life
Tracks Calories Burned
Tracks Active Time and Sleep
Includes Wrist and Ankle Band
Comes in a Variety of Cool Colors
Comes with a Digital Coach to Keep You Motivated
Cons
Tracker Core Not Permanently Attached to Band
One Size Fits Most
If you're a woman who can't live without pool swimming or ocean workouts, the FitBit Versa may be the best waterproof smartwatch for you.
We LOVE this one for women because of its feminine health tracking capabilities, so you won't have to worry about pre-planning when you can and can't hop in for a swim!
The FitBit Versa can track all of your workouts, including aquatic activities, monitoring your heart rate as you swim! Plus, you can keep those tunes going as you freestyle and backstroke your way to the finish line.
We also love that you can access your favorite apps and your phone with the FitBit Versa, along with tracking your own built in GPS location for safety in open water swimming.
Pros
Heart Rate Monitoring All Day and Night
Bluetooth Connection to Smartphone
Chat, Text, and Access to Apps
Stores and Plays 300+ Songs
Feminine Health Tracker
Big, Bright Watch Face
Tracks All Workouts
GPS Technology
Waterproof
Cons
Let's talk about the elephant in the room: anxiety. We know how difficult it can be to live with this problem, and how it oftentime goes ignored and looked down upon in the world.
But we also know how real and pervasive anxiety is, especially in the world of fitness, where we're constantly bombarded with the idea of the perfect image.
Well, with the Garmin Vivosmart 4, you can be rest assured that your swimming watch has got your back while you're backstroking.
It actually has anxiety tracking technology, measuring your heart rate and levels of stress throughout the day so you can have a better handle on what stresses you out in and out of swimming.
Plus, the Garmin Vivosmart 4 has a 7 day battery life, integrated GPS tracking capabilities, and notification tech that vibrates on your wrist when you receive a message from a friend, boss, or just your favorite app.
Not to mention, it comes in five awesome color patterns, so your Garmin Vivosmart 4 can show off your specific style and aesthetic as you swim!
Pros
Affordable
Waterproof
Stress Tracker
7 Day Battery Life
Bluetooth Technology
Awesome Color Variety
Smartphone Connectivity
Sleep and Active Tracking
GPS Tracking Capabilities
Optical Heart Rate Monitor
Alerts for smart Notifications
Cons
Small Screen
Requires Smartphone to View Stats
Buyers Guide: Things to Consider Before Buying a Smartwatch for the Water
If you're an avid swimmer or aquatic athlete, you know how difficult it can be to find smartwatch features that can actually work in the water.
Hey, we get it; we've been right where you are, spending hundreds of dollars on regular fitness trackers only to realize that water resistant is not the same thing as waterproof.
We want to make sure your choice is as informed and worry-free as can be, so we've provided you with the ultimate buyer's guide to waterproof smartwatches right here!
Below, you'll find the 7 most important elements you should consider before buying the smartwatch of your dreams.
1. Price
When you're a swimmer, price is a very important thing. When you have to pay for a swimming membership, new bathing suits, and water sports equipment all the time, you don't want to have to pay exorbitant amounts of money for a smartwatch every year.
So, you're going to want to make sure the watch you do pick is worth the money and not a rugged smartwatch.
That's why we've compiled the best smartwatches for swimming addicts like you. To make your purchase with it, your watch should be waterproof, versatile, and be able to track your heart rate and swimming stats so you can make as much progress as you can.
You don't need to spend upwards of $1,000 for a quality waterproof smartwatch anymore!
2. Durable and Waterproof
As you'll be spending hours in the salt and chlorine with your smartwatch, you need to ensure that it's made of durable, quality material. Your smartwatch must be waterproof to stand up to your workouts. Plus, its band has to be strong enough to stay on your as you lap the guy in the lane next to you!
3. Tracking Capabilities
The best smartwatch will not just track your steps; it will track your speed, calories burned, heart rate, and your GPS location! Not to mention, for swimmers, a fitness smartwatch MUST be able to track laps, strokes, and distance while swimming!
4. Battery Life
Technology is wonderful; if you're a water athlete, you probably can't live without it! However, sometimes technology could be a hassle, too; that _is, _only if you have to charge it for hours a day every day.
So, when looking for a waterproof smartwatch, you'll want to make sure you're investing in one with an excellent battery life. Each tracker on this list has that worry covered, so no need to fear that your GPS tracker will die on you while you're catching those waves!
5. Compatibility
If you purchase a regular tracker, it won't connect to your smartphone. That means you won't get to track your daily activities and sleep patterns; just one day of tracking for you.
That's why smartwatches are the only way to go for serious athletes. You know you can't make progress without tracking your stats and heart rate every single day, so why waste time on a tracker that isn't smartphone compatible?
6. Style
Since you'll be wearing this thing a lot, you want to make sure when ever you're in smartwatch mode your waterproof watch doesn't just have smart technology; you'll want a watch that also _looks _smart and not just any rugged smartwatch!
That's why we love each one of this list. They're all sleek and stylish; plus, most of them have a few different color options to match your aesthetic!
7. Warranty
Although not crucial, you're probably going to want some sort of warranty or protection plan added to your smartwatch. Although each one on our list is quality and dependable, accidents happen that even the most careful athlete can't see swimming past them.
So, make sure that – if you're going to spend more than $60 on a smartwatch, it comes with some kind of warranty.
Top 5 Frequently Asked Questions (FAQs)
What Smartwatches are waterproof?
Each smartwatch on our list is waterproof, so feel free to jump right in the pool and start tracking those laps!
Can you swim with a waterproof watch?
Yes! All of these smartwatches are waterproof, lightweight, and flexible to work with all of your water activities!
Which smartwatch is best for swimming?
Though each smartwatch on our list has its benefits, the best for swimming is the Apple Watch Series 7. It's got everything you want in a smartwatch, plus the awesome aquatic benefits of a waterproof fitness tracker!
Is there a waterproof FitBit for swimming?
FitBit is a brand you can always trust; but you must make sure that the smartwatch you choose for swimming is actually waterproof! Our top FitBit pick for swimming is FitBit Versa. Not only is it awesome for women due to its feminine health tracking features; it's also got tons of great fitness features in and out of the water!
Is FitBit Versa waterproof for swimming?
Yes! The FitBit Versa can handle up to 50 meters (5 ATM) of water depth, so it's great for diving, surfing, water polo, or backstroke! The FitBit Versa even has special features to track all your swimming stats!
So Whats Next:
Whether you're an experienced swimmer with years of training in the lap pool, or you've just joined a fun water aerobics class for your health, you should be investing in a smartwatch.
No no, not just for the stylish efficiency it brings to your life; but for the awesome benefits one can bring to your water workouts.
Not only can they track and manage your progress while swimming; these top water resistant smartwatches can also monitor your heart rate day and night, track your GPS location for safety in oceans and lakes, and even create custom workouts so you'll never get bored!
Plus, they're each elegant and stylish enough for work as well as water.
So, quit putting it off and get yourself one of the apple watch series 7 or any of the waterproof smartwatches listed above.
We just know they'll make your workouts go swimmingly (haha).
Happy Fitnessing!
Also Read: